Product
Great Budget Machine
Our Choice
Title
Pro XS Sports 2 In 1 Elliptical Cross Trainer
JLL 2 In 1 Elliptical Cross Trainer
Viavito Setry 2 In 1 Elliptical Cross Trainer
Great Budget Machine
Product
Title
Pro XS Sports 2 In 1 Elliptical Cross Trainer
Product
Title
JLL 2 In 1 Elliptical Cross Trainer
Our Choice
Product
Title
Viavito Setry 2 In 1 Elliptical Cross Trainer
Choosing the Perfect Cross Trainer Exercise Bike
When it comes to choosing the equipment for your home gym, there are so many different options that you could consider. One of the most effective and popular pieces of equipment for the home gym is the 2 in 1 cross trainer exercise bike. These machines are highly beneficial in more ways than one.
The Benefits of a 2 in 1 Machine
Save Space – For most people, space in the home gym is limited. If you're planning on getting more than one machine, then you are going to want to go for compact pieces of equipment. The good thing about the cross trainer exercise bike is that you get two machines in one, saving a huge amount of space.
Vary your Workout – One of the problems that you get with working out at home is that it can get quite boring using the same piece of equipment which can be discouraging if you're trying to improve your fitness. With a 2 in 1 elliptical cross trainer, you are able to vary your work out regime so that it doesn't get too boring.
Save Money – If you want an exercise bike as well as a cross trainer then obviously you are going to have to spend more money to get the two separate machines. By getting a 2 in 1 cross trainer exercise bike you could potentially save yourself a fortune.
In terms of choosing the right cross trainer exercise bike for your home gym, there are a wide range of options to consider. We hope to take some of the hassle out of researching hundreds of models by giving you a rundown and review of our top three machines. Hopefully by taking a look at our reviews, you will be able to make a decision on the best machine for you.
3. Pro XS Sports 2 In 1
XS Sports is a big manufacturer in the world of sporting products
and equipment. They have spent years building a solid reputation, so we were optimistic about the performance of this particular cross trainer.
Features:
2 Way Chain Driven Flywheel
Adjustable Belt Resistance
Adjustable Seat
Adjustable Handles
Adjustable Feet
Monitoring Functions
Maximum User Weight 110Kg
First of all, assembling the Pro XS Sports 2 In 1 Elliptical Cross Trainer was no problem at all. We actually expected it to be a lot more complicated than it was. Within around an hour we were set up and ready to go. For a budget model, we were actually very impressed with how sturdy and well-machine feels. It definitely competes with more expensive models in this respect.
The LCD screen is easy to see and navigate which is a definite plus point. You can access all of the features with little to no hassle. The machine itself feels really comfortable to use and we were impressed with the adjustable seat, handlebars and feet as you can adjust it to meet your needs exactly.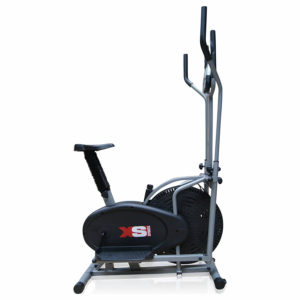 Another thing that impressed us is the two way flywheel. With a lot of cross trainers, you are only able to move forwards which can be restrictive in terms of varying your work out and building fitness levels. With the two way flywheel you are able to go forwards and backwards at varying resistance levels which really varies the intensity of your work out. The fitness tracker is a great way of monitoring your progress.
The only thing lacking with this particular cross trainer exercise bike is how many features and programs it has. If the manufacturers had just put a few more features into the console it would be so much better. However, you get what you pay for and for a budget model this cross trainer definitely delivers. If you want something basic, this could be the one for you.

2. JLL 2 In 1
According to JLL, they combine excellent products with outstanding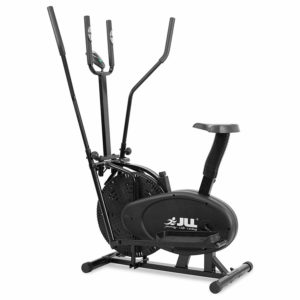 customer service. They produce a range of foldable fitness equipment that has had a lot of positive feedback from customers, so we wanted to try it for ourselves to see how it performed.
Features:
Chain Driven Flywheel
Adjustable Resistance
5 Function Fitness Monitor
LCD Display
Heart Rate Monitor
Maximum User Weight 110Kg
Given the budget price tag that comes with this 2 in 1 cross trainer,
we weren't really sure what to expect in terms of quality. After assembling the machine, we were pleasantly surprised to find that the steel frame actually feels a lot more expensive than it is. It is very sturdy indeed. The instructions that come with the machine are perfectly clear and easy to follow.
There are a number of things that we liked about the performance of this cross trainer. The tracker is good and actually provided really accurate results. The resistance levels were easy to adjust and the cycling function actually felt quite realistic. The only thing that we didn't like was the noise that the machine started to make after a few uses.
One of the things that we were really pleased with regarding the design of this cross trainer exercise bike is the extra wide foot plates. These make the work out far more comfortable as you feel much more stable. The LCD screen is the perfect size and is very easy to see, we had no problem navigating the menu. The only complaint that we have is that the cross trainer doesn't have any pre-set programs.
For a budget model, however, it definitely performs well.

1. Viavito
Our top pick is this cross trainer from Viavito. This newly established brand pride themselves on manufacturing fresh, dynamic and exciting fitness, sport and wellness products. This is a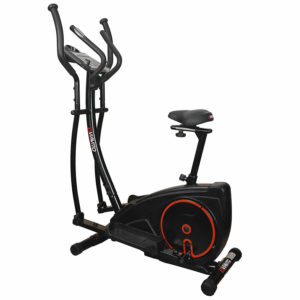 high end cross trainer and we really wanted to see how it would compare to some of the others on the market. It's safe to say that we weren't disappointed.
Features:
5Kg Flywheel
3" Stride
20 Programs
32 Levels of Resistance
LCD Display
Oversized Footplates
Heart Rate Sensors
Chest Strap Heart Rate Monitor
Maximum User Weight 120KG
We were so impressed with this cross trainer. First of all, it is worth noting that assembly will be quicker with two people as there are quite a lot of components to put together. However, once it was fully set up, we were able to really see the fantastic quality of the design. What we really like is how close this machine is to gym standard. You can really feel the difference. When we were using it, the machine felt incredibly stable, there was no movement from the frame at all.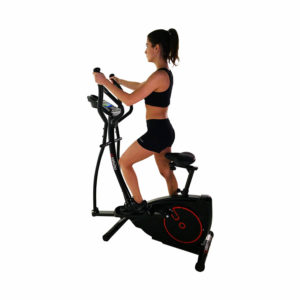 The LCD display looks fantastic and is so easy to navigate. It couldn't be simpler to access all of the different settings and programs from the console. We really like the fact that there are 32 levels of resistance as you can vary the intensity of your workout massively and really push yourself. After just one work out session we felt like we had been to the gym.
The stride length is great as it doesn't restrict your workout whatsoever. The oversized foot plates make using the cross trainer a really comfortable experience; you feel safe doing your work out even at higher intensities. The built in heart rate sensors were great for monitoring our progress and the free chest strap heart rate monitor is great.
Although this cross trainer exercise bike is on the more expensive side of things, you really do get what you pay for. We have no complaints about this machine at all, the only downside is the price tag, but if you can afford to pay a little extra then this one comes highly recommended.
Hopefully, you will now be able to choose the perfect cross trainer exercise bike for your home gym and enjoy getting fit.