Best Home Elliptical Machines – Reviews 2017 – 2018
| | | | | | |
| --- | --- | --- | --- | --- | --- |
| | JTX Tri-Fit | Variable stride length - 4 incline positions - 17kg flywheel - 19 workout programs - Compact design - Heart chest strap included | Mid range | | CHECK PRICE HERE! |
| | JTX Strider X7 | 16" stride length - 12.5kg flywheel - 16 workout programs - Compact design - Heart chest strap included - 2 year warranty | Mid range | | CHECK PRICE HERE! |
| | Nordic Track E9.5 | 17.7 - 19.7" stride length - 12.5kg flywheel - 24 workout programs - 5 year warranty | High end | | CHECK PRICE HERE! |
| | HealthRider 1100 | 18″ stride length – 14kg flywheel – 20 workout programs – 2 year warranty – In-built speakers | Mid range | | CHECK PRICE HERE! |
| | JLL CT300 | 5.5kg flywheel - 8 levels of resistance - 12 month warranty - In-built speakers | Affordable | | CHECK PRICE HERE! |
Top 5 Elliptical Trainers For Home Use
When it comes to home fitness, there is no better alternative than an in-home cross trainer. It is the ultimate fitness equipment in giving you a high intensity workout without the high impact movement.
You see plenty of X-trainers in the gym, these are high end machines and are built for lasting and constant wear. They are extremely sturdy as they expect constant use. They cost over £1000 each and are definitely over-specced for use at home. Your home trainer will be used at max a few times per day (depending on how many people will be using it) and usually a few times per week on average.
We have researched and written this article to bring you the top 5 cross trainers for the home in 2015 – 2016 – we have thoroughly reviewed them making your buying decision easy.
JTX Tri-Fit Review – Our Number 1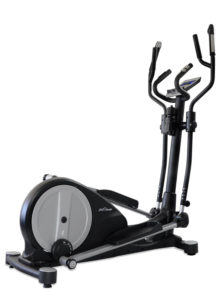 JTX are a well known brand in the world of physical fitness. A very reputable manufacturer and they are known for their high quality products. Their cross trainers are no exception to this rule.
In this line up we feature two of their most popular trainers currently on the market.
The Tri-Fit is one of the mid-high range products in the JTX range. There is a more premium trainer than The Tri-Fit which is The Zenith (learn more here!), however, for the home, The Tri-Fit is perfectly adequate.
Below are some of the features it offers;
A variable stride length of 16″ – 21″ – so regardless of your height, you will be able to use the Tri-Fit comfortably – 5 different stride options
Four incline options giving you more intensity when working out to burn those extra calories
Electro-magnetic resistance allowing you to get an exceptional workout with no impact
A decent 17kg flywheel allowing for a smooth movement
Multi-position handles which have been designed ergonomically prioritising comfort
19 Workout programs give you a good amount of variation when it comes to picking the best one for your fitness goals. Whether you want to lose weight or tone up those thighs and glutes, you are sure to find the best one for you
Custom program feature – once you get somewhat into your fitness regime, you can customise a workout specific to your fitness goals and current fitness levels
Heart rate programs – these are amazing and automatically control the resistance based on your zone. So if you want to do some HIIT (high intensity interval training) or even some LISS (low intensity steady state) – you program in your desired heart zone and leave the rest to the trainer!
Compact design – patented design means The Tri-Fit is typically 30% smaller in foot print than its competitors so you can virtually fit it in most rooms in your house
Heart chest strap included when purchasing from Amazon. This gives you incredibly accurate beats per minute so as to make your workout extremely efficient.
Overall, the Tri-Fit has some amazing features. It is one of the few trainers on the market today with a variable stride length which is ideal if you are sharing the trainer with others. That, along with the 19 workout programs, 17kg flywheel and a compact design with a heart chest strap free of charge as an excellent bonus, you cant go wrong with this product.
Summary: Variable stride length – 4 incline positions – 17kg flywheel – 19 workout programs – Compact design – Heart chest strap included
Pricing: Mid range
Products from Amazon.co.uk
‹
›
JTX Strider X7 Review – Number 2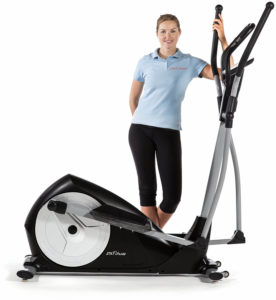 The second JTX product in our line up today is the Strider X7.  Another very good trainer, not quite as premium as The Tri-Fit but ideal for those on a slightly tighter budget. The Strider X7 comes with a good set of features and with the build quality from JTX, it is more than enough to keep you physically fit.
Here are some of the features you will find in the Strider X7;
16″ stride length so it is ideal for most users of average height
12.5kg flywheel which is of a decent weight to keep the movement fluid and smooth
Polar compatible heart strap for the chest included with The Strider X7
16 Levels of magnetic resistance giving you plenty of choices when it comes to selecting the intensity of your workout
Compact design to fit in most rooms in the house
Ergonomic foot plate giving you added comfort as you workout
2 year in-home repair warranty! A fantastic piece of mind and security for your investment.
A great cross trainer built by JTX which prides itself in a high quality build while keeping the price at an affordable level. With the Strider X7 you also get a heart chest strap as a bonus.
Summary: 16″ stride length – 12.5kg flywheel – 16 workout programs – Compact design – Heart chest strap included – 2 year warranty
Pricing: Mid range
Nordic Track E9.5 Review – Number 3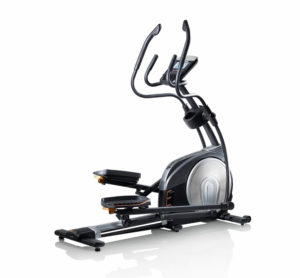 Another quality manufacturer, NordicTrack are known in the market for producing ski machines as well as crosstrainers. You can see the correlation between the two types of products.
With The E9.5, NordicTrack have done an exceptional job. While the price point of this product is high, the features and build quality more than justify this.
Here are some of its best features;
22 Levels of resistance so you'll be sure to find the optimum for your fitness level
12kg flywheel giving you a good amount of resistance and keeping the motion smooth
SMR feature – Silent Magnetic Resistance – which means you get a quiet ride so you wont be disturbing anyone close by
17.7″ – 19.7″ stride length giving you a fair amount of range for a mixture of users with different heights
24 programmed workouts giving you enough to find the best regime for your fitness levels and goals
5 year frame warranty from the manufacturer
A very high quality product from NordicTrack boasting some excellent features and an extremely high quality product, all this, backed by a 5 years manufacturers warranty, you cant go wrong!
Summary: 17.7 – 19.7″ stride length – 12.5kg flywheel – 24 workout programs – 5 year warranty
Pricing: High end
HealthRider 1100 Review – Number 4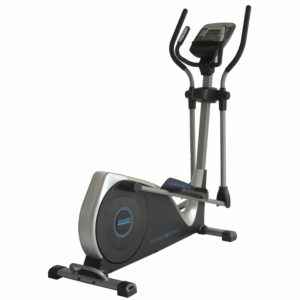 From manufacturer HealthRider, comes The 1100. While HealthRider arent quite as seasoned as JTX or NordicTrack, they have certainly made a good entry into the market boasting high quality products without the extreme price tag.
The 1100 has some pretty great features which we will have a look at below;
20 levels of SMR – Silent Magnetic Resistance – a quiet workout, no matter the level of intensity
14kg flywheel giving a fluid and smooth movement
A very decent 18″ stride length – so as to allow for most users with average heights
Pulse grip handle bar sensors so you can monitor your heart rate whilst working out
2.0 speakers giving you full iPod/mp3 compatibility so you can workout to your favourite tunes
20 workout programs so you can be sure to find one that suits you
2 year parts and labour warranty
A very good trainer at a mid-low level price range. The 1100 comes with some good features, such as a decently heavy flywheel, 18″ stride length and the in-built speakers which is a great bonus for those of us who need the musical motivation while working out!
The 2 year parts and labour warranty is a very nice icing on the cake!
Summary: 18″ stride length – 14kg flywheel – 20 workout programs – 2 year warranty – In-built speakers
Pricing: Mid range
JLL CT300 Review – Number 5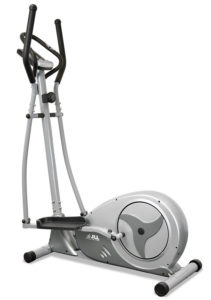 JLL are a well-known manufacturer in the world of fitness equipment. The CT300 trainer is a good trainer with some decent features, all at a very affordable price tag.
With a good build quality and a 12 month warranty, this is ideal as an entry-level product. Here are some of its features;
8 levels of magnetic resistance – while not as many choices as some of the others, 8 levels is plenty to get your fitness level on the right path
Heart rate sensors on the handle bars giving you instant BPM feedback while you work
5.5kg flywheel giving you a moderate amount of smoothness in your movement
12 month warranty
As an affordable cross trainer, The CT300 is definitely one of the more popular options. It is well built, has some good features as well as a 12 month warranty and all at an affordable price tag.
Summary: 5.5kg flywheel – 8 levels of resistance – 12 month warranty – In-built speakers
Pricing: Affordable
Verdict
Well, you have seen some of the best cross trainers for the home in this line up. From the high end NordicTrack to the affordable JLL.
The winner is clearly JTX with their Tri-Fit. It has some great features like the adjustable stride, a decent weight flywheel, 19 workout programs and all at a mid range price. The customer service by JTX, you will find is amazing. Plenty of Amazon reviewers have said much the same.
If you are looking for a good fitness equipment for the home, you have definitely found it with The Tri-Fit.
Cross Trainers Buying Guide
In our sedentary and obesity ridden world, physical exercise is more important than ever. Buying a gym membership, going for a swim or jogging everyday may work for some people, but others may find it more beneficial to buy their own gym equipment.
Owning an exercise machine means you can pick your own workout music, watch TV and exercise any time of the day or night, all from the comfort and privacy of your own house.
There are a lot of machines to choose from, and the cross trainer is one of the best pieces of equipment you could choose. As a frequent cross trainee myself, I believe that this is one of the easiest and most effective cardio machines that can be used to lose weight and get fitter without excess pain and exhaustion.
Easy & Safe To Use
If you are just getting started on a fitness regime or you're not used to gym equipment, using a fitness machine for the first time can be daunting. One of the reasons the cross trainer is so good is because it's so easy to use.
The movement, which is basically simulated running in slow motion, is very easy and doesn't require much effort on its own, and the machine is very straight forward and quick to master. You will also automatically start on the lowest intensity so you can master the movements and improve your balance before increasing the pressure.
Cross trainers are also incredibly safe. The physical benefits will be discussed below, but they are also practically safe. Unlike a treadmill, the cross trainer stops moving when you stop moving and you can get off at any time.
When you're running on a treadmill and you want to decrease the speed and/or stop the machine, it can be quite difficult to maintain your movements and control the machine at the same time, and if you stop running on a moving treadmill you could quite easily go flying. This is simply not a concern with the cross trainer, which increases the intensity rather than the movement.
Low Impact
Treadmills are probably the most popular cardio machines you can buy, and they are very effective. They encourage natural jogging/running movements, you can control the speed and incline of your machine so you can simulate sprinting up hills quite easily, and running is an altogether very effective way to lose weight and get in shape.
With that being said, a lot of people find running very unpleasant and physically painful.  Older people,  people who suffer from bad knees/ankles and/or obesity, and the relatively unfit individual can all find running very difficult, painful and unpleasant.
Running can also cause joint problems in the long term, because when you run you are putting a lot of strain on your legs. This can become a big problem in the long term, and this is where the cross trainer comes in.
The Cross Trainer can be used to simulate running without putting too much pressure on the joints, so you effectively get all the benefits of going for a run without damaging your legs or back. The movement feels like running in slow motion which is relatively easy, but you can still feel the exercise working and you'll end up with a healthy sweat.
As the cross trainer feels easier to use than machines like the treadmill or rowing machine, you can do it for longer. Experts say that even 15 minutes a day of exercise can do wonders to improve your health and longevity, and even someone who is pretty unfit can easily manage 15 minutes on a cross trainer.
The cross trainer can actually be used to combat exercise related injuries. Research suggests that the cross trainer may actually help sore joints, it can help you regain motion in your hips, and it can even be helpful as part of a rehabilitation programme for people who have has brain injuries! The cross trainer is also well known to improve balance, which can be helpful for stroke victims.
Full Body Workout
Unlike other muscle-specific machines, the cross trainer can be used to work out your whole body.  Whilst the lower intensity may make you assume this machine can't be that effective, the cross trainer actually uses 80% of your bodies muscles during your workout, including your biceps, triceps, calf muscles and thighs.
Most cross trainers come with moving handle bars, which allow you to move your legs and arms at the same time. The handle bars will work out your back, chest, arms and shoulders, and the leg movements will exercise your legs and gluts.
You can also isolate the area you want to work on by only moving that area, so you could develop a work out routine that isolates and exercises specific muscles in your body at different times, or you could spend an entire workout focusing on one particular muscle group.
Increase The Intensity
Just because the cross trainer is low impact doesn't mean it can't be intense. The great thing about the cross trainer is that you can adjust the resistance level whilst keeping the same movements; so when you're just starting out you can learn the movements and still have a basic workout on the lowest intensity setting, and as you get more confident you can increase the resistance level and give your body a stronger workout.
Cross trainers typically have a 1-25 resistance level, with 1 being the easiest and 25 being the most intense. Many cross trainers have plus and minus buttons on their moving handles, which means you can increase or decrease the intensity without stopping or even slowing down your movements. This is also great for HIIT workouts, as you can switch from a low to high intensity and back again in a matter of seconds.
Now that you're convinced and excited to buy your own personal cross trainer, you need to know what features to look for before you buy. Purchasing any kind of home gym equipment isn't cheap and you want to make sure you're getting your moneys worth, so here is a list of things to look out for before you make a decision.
Console
The console is a really important part of the cross trainer, because it lets you know how long you've been working out for, how many kilometres you've travelled and how many calories you've burned. More advanced consoles will also let you choose specific workouts, monitor your heart rate and have 'user profiles' which lets you customize your workout experience if more than one person uses your machine.
The console is a great source of motivation, it helps you set goals and it keeps you up to date on your progress. Not only do you want to make sure the cross trainer you're buying does actually have a console, but you want to make sure it's not a budget one.
Budget consoles are likely to have less options and they may be less accurate, I.e they may give you the wrong information and let you believe you've burned less or more calories than you actually have. Whilst more upmarket cross trainers are likely to cost a little bit more, it is worth it to make sure you have a quality machine with all the features you need to stay on-top of your workout.
Heart Rate
As mentioned above, a decent cross trainer should have a heart rate monitor. Whilst its important to get your heart pumping during a work out, it is important to keep an eye on it and make sure it doesn't go dangerously over. If you are doing a HIIT workout, you also want to make sure your heart rate is above a certain level to make sure your work-out is effective.
Different cross trainers will have the heart rate sensors in different places. Most cross trainers will have the sensor on the handles, and they will measure your heart rate through the pulse in your hands. Other machines may include chest straps which you can use to measure your heart beats per minute.
Chest straps are more reliable as sweaty hands can lead to inaccurate pulse readings, but it is a lot easier to rely on the handles to do all the work without having to strap yourself in every time you want to work out.
Whichever method you choose, make sure the cross trainer you are buying does have a heart rate monitor.
User Profiles
As mentioned above, higher-end cross trainers should include user profile settings. This means that if there is more than one person in your household using the cross trainer, you can all have your own user profile that includes basic information about each user such as their BMI, weight, height and age. This can be really useful for tracking your progress, and it is better able to calculate the amount of calories you burn and your maximum heart rate.
If your cross trainer has a user profile setting, you would simply have to select the user and then have a fully customised cross training experience. It is a lot easier to track your progress via the machine itself rather than writing it all down, and more expensive machines can even tailor specific work outs just for you based on your stats and recorded progress.
Levels Of Resistance
A good cross trainer should have adjustable resistance levels, so that you can up the intensity and improve over time.  Some cheaper cross trainers may require you to get off the machine and manually change the resistance levels, but that's not ideal if you want a machine that's easy to control.
Many mid-high end cross trainers will let you control the resistance via the console and/or with plus and minus sign buttons on the handles themselves. This means you can increase or decrease the resistance/incline with literally just a touch of a button, which is a much better way to do it. It is always worth paying a little more for a better experience.
When buying a cross trainer, you need to make sure that the machine your buying has enough resistance/incline options that you can keep using it and improving over time. If the cross trainer doesn't have enough resistance/incline levels, there's simply no point in buying it as your work out needs to get harder over time in order to remain effective.
You also need to make sure there are enough options that will let you improve over time (if there are only 5-10 resistance levels you should keep looking), and that the maximum resistance level is actually hard.
The cross trainer is a great way of improving your fitness easily without unnecessary strain, but if you are going to improve your workout needs to become harder over time. An experienced cross trainer user should be working out at a resistance of at least 10, and you should have the option to go up to at least 20. Most cross trainers that you can use in a gym can go up to a 25, which is a pretty hard setting.
Whatever your current level of fitness, if you use the cross trainer regularly you will improve over time. It is worth it to invest in a machine that you can continue to use as you improve, rather than spend less on a machine that you will quickly outgrow.
Handles
As mentioned above, the great thing about the cross trainer is that it can give you a fully body work out, and it lets you exercise your top half as well as your legs. As it is on of the main features of the cross trainer, most machines you can buy will have handles.
However, remember to double check this is actually the case before you buy a machine. Always remember to check the product pictures, make sure you are buying from a reputable company, and if buying second hand make sure you will be able to return it if needs be. It can be easy to be ripped off with expensive equipment like this, especially if you are buying online. When in doubt, double check.
Warranty
As with any expensive item, it is very important you make sure the cross trainer you are buying comes with at least a one year warranty. One year is pretty standard with items like this, but keep an eye out for 3, 5 and even 10 year wwarranty as they are preferable if possible.
It is important that you buy yourself a good quality cross trainer that will withstand the test of time, but there are never any guarantees that it won't break somewhere down the road. A warranty should cover you for malfunctions, accidents and any mishaps that may happen during its cover, but its important to read the fine print and make sure you know exactly what your warranty covers.
Whilst cross trainers are actually harder to break than other machines (due to the reduced body impact compared with something like a treadmill), it is still a risk. Here are some of the things you need to double check your warranty covers before choosing your cross trainer.
If your machine is faulty, is there a returns/exchange system in place? If so, who will pay for the shipping? A cross trainer is a pretty big machine, so if the shipping falls on you you could have to fork out quite a lot.
Does the warranty cover a call-out service? Some companies will send someone over to your house to look at/fix your cross trainer, which is definitely an easier option than trying to ship it
Does your warranty cover all damages? Whilst the warranty will cover you if you receive a faulty machine, will it cover you if it breaks for other reasons? Think of all the things that could happen, and make sure you are covered for as much as possible.
The Brand
It is very important to buy your cross trainer from a reputable, well known brand. As these machines have increased in popularity over the years, more and more companies have started selling them and it is fairly easy to buy a cross trainer via Ebay, Amazon and even sites like Gumtree.
It may be tempting to go for the cheaper options, especially if they are sold in such a way that makes you think you are getting a great bargain, but it's really important to stop and make sure you know what you're getting.
If you buy a machine that doesn't work, doesn't have enough options or stops and starts a lot, your experience isn't going to be good and you will probably end up spending double the money buying another machine.
If your cross trainer keeps breaking that also means wasting a lot of time on the phone to customer services, which can not only bring up your phone bill but is also taking time away from your workout.
Make sure you research the company and website you are buying from, make sure there are recent photos and detailed information, and always check the user reviews to see if other people tend to have problems with that particular brand.
Maximum Weight & Height
All fitness machines will have a maximum weight and height that the machine can hold, and it's important to make sure that not only do you fit the requirements, but that everyone else who may be using the machine does as well.
The weight is important, because if someone who is above the maximum weight tries to use the cross trainer they will probably break it. A warranty is very unlikely to cover that kind of damage, because it was your responsibility to make sure the cross trainer is only used by those who are within its weight limits.
Height is also important, because the longer or shorter your legs are will have an effect on how far they move on the cross trainer; a shorter person will have a smaller stride and a taller person will have a longer stride. A cross trainer that caters for long strides won't work well with shorter people and visa versa.
Some cross trainers do come with adjustable stride lengths so it can cater for people of different heights, so that's definitely something to look out for. Some machines will also cater to larger weights and heights than others, so make sure everyone fits the requirements before you make your choice.
That's about everything you need to keep in mind when buying a cross trainer, so hopefully you now feel confident enough to make an informed decision. Cross trainers are great for people of all ages, abilities and fitness levels, and it's great that you've made the decision to incorporate fitness into your daily life.