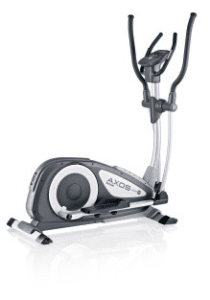 Cross training is a great method of keeping fit. It has plenty of health and fitness benefits and is accessible to everyone, no matter how fit or unfit. As well as this, the cross trainer can be a great addition to a home gym. However, what many people may find themselves wondering about is the amount of calories that you can burn by using a cross trainer.
What may surprise you to learn is the fact that you are able to burn more calories by using a cross trainer than you are by using a treadmill. By using an elliptical cross trainer, you are actually able to burn on average 450kcal per hour, and that is just by performing a low intensity work out. A high intensity work out will allow you to burn up to 830 kcal per hour. With impressive results like this, it is easy to see why so many people are using cross training as a tool to lose weight.
The Benefits of Using a Cross Trainer
As well as allowing you to burn impressive numbers of calories, the cross trainer also has many other benefits over some of the other types of fitness equipment that you will find at your local gym. Here are a couple of the benefits to consider.
Easier on the joints – The problem with a lot of fitness equipment is that it can be quite harsh on the joints. The problem here is that it can lead to injury which will make keeping fit much harder. The cross trainer is much easier on the joints than most other work out machines. If you suffer with joint pain or inflammatory conditions such as arthritis, then a cross trainer would be a great option for keeping fit and healthy.
Great for weight loss – Losing weight is not as easy as many people think and they soon find out this fact when they try to do it themselves. Cross trainers provide a great way of losing that stubborn weight. This is because rather than working just one group of muscles, you are able to work multiple muscle groups at one time, from the upper body muscles to the lower muscles.






You can vary things massively – The trouble with many types of work out machines is that they don't give you much room for movement, in terms of setting things the way that you want them. With a cross trainer, you are able to adjust the stride, the resistance, the incline and even the intensity of your work out. This allows you to get the best results possible from your cross trainer.
Tips for Burning More Calories with Your Cross Trainer
If you would like to use your cross trainer to burn fat fast, then there are a few things that you can do to make sure that you get the best results. Here are a couple of tips.
Use HIIT – If you want to lose weight fast with your cross trainer, then your best option is to do high intensity interval training. This involves varying the pace over a certain amount of time. It can be a great method of burning calories. If you're not sure what you're doing, then take a look online as there are a lot of resources that will allow you to take a look at different work out routines that you can try at home.
Resistance – If you want to make sure that you are getting the most out of your work out on your cross trainer, and you want to lose weight quickly by burning more calories, then it is worth making sure that you haven't got the resistance set too low. If it is too low then you aren't going to get very good results at all. However, it is important to note that you shouldn't set the resistance too high either as you run the risk of injuring yourself which will set you back further.
There are some fantastic cross trainers on the market at the moment that will come with built in weight loss programmes. These programmes are designed to allow you to burn the maximum amount of calories possible. If you are trying to lose weight with your cross trainer, then it is definitely a good idea to take a look at these programmes and try them out for yourself. This will give you the best chance of burning a significant amount of calories.