Life Fitness X1 Cross Trainer Review 2016 – 2017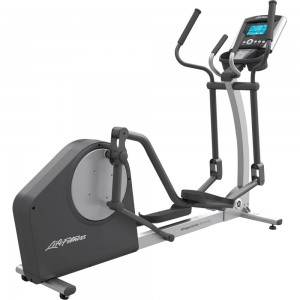 Cardio is an important part of living a long, healthy life. Jogging is good for this, but is only possible when weather permits, and also isn't so kind to the joints in your legs. For this reason, elliptical machines can be a good choice. While many of these machines can feel awkward, especially to beginners, The Life Fitness X1 Cross Trainer (VIEW PRICE HERE!) with Go console provides you with a natural feeling stride. Let us look at some of this machine's other notable features:
The machine comes with Whisperstride technology, making your workout an almost silent experience. Ball bearings eliminate friction, meaning you don't have to deal with lots of noise while working out (a very convenient feature and unique to workout machinery). Ideal for use in your house or even an apartment.
This cross trainer has an easy to read screen. While many screens on similar devices can be difficult to decipher, this one is nice and simple. It displays your personal fitness feedback and keeps track of your workout progress, helping you maintain a suitable exercise regimen and stay motivated without the need of a personal trainer.
The device allows a smooth, fluid motion with its elliptical path, based upon scientific studies and research. This ensures that your exercise will have a natural feel to it, rather than awkward or uncomfortable.
Another key feature is the Life Fitness X1 Cross Trainer's heart rate monitoring system. As you grip the handles while working out, this advanced technology keeps track of your pulse, alerting you to your progress, and letting you know when to go faster. A wireless chest strap is included for even more in-depth readings of heart rate.
Comes with options of full body or lower body workouts, meaning you can focus on what is most necessary for you. Personalise your workout sessions.
The Life Fitness X1 Cross trainer's "Go console" has 13 workout programs. With such variety, it's guaranteed you will find the one most suitable for you.
The trainer allows you to have up to 2 user profiles, meaning you can share the experience with your spouse or roommate, sharing inspiration and progress.
This apparatus has over-sized pedals for added support. No more worrying about the foot supports being too short or not wide enough for your feet. This machine is suitable for a variety of sizes.
Pedals are fitted with no-slip material. Focus on your fitness regimen instead of having to worry about falling off the machine mid-workout.
The X1 Cross Trainer is a large machine. You may need some help getting it into your house, but you'll be glad you did. Assembling this apparatus is simple enough with a set of sockets, and shouldn't take very long. Other, similar machines can be a huge, time consuming hassle to set up, but that is not a concern here. Using this device is straightforward and simple enough for beginners, but can also be used by people familiar with the world of fitness and exercise. The machine is nice and quiet which lessens the concern of disturbing people you live with or neighbours on the floor below or above you.