Frontier Olympus Max – An Incredible Piece of Exercise Kit
Frontier has spent years building themselves an incredibly high reputation in the fitness industry. They are known to produce semi commercial fitness equipment of an incredibly high standard. This is why we were so excited to test and review their Olympus Max Cross Trainer. We were expecting very good things from this machine, and we were absolutely not disappointed.
Features:
25Kg Magnetic Flywheel
3 Piece Crank and Bearings
Forward & Reverse Motion
16 Levels of Computer Controlled Resistance
Backlit Ergometer Console
Bar Graph Display
16 Exercise Programs
Anti Slip Pedals
Static and Moving Handlebars
Chest Belt Pulse Sensor
Drink Bottle and Bottle Holder
Maximum User Weight 136Kg
Pros:
Extremely smooth operation thanks to the extra large flywheel.
Brilliant range of extras.
Great tracking features.
Good variety of programs.
Cons:
Very expensive piece of kit.
The assembly can take quite a long time.
The Design
To start off with, let's take a look at how the assembly process went.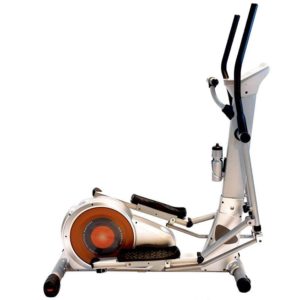 The instructions provided with the Frontier Olympus Max were very clear, which is great. The entire assembly process took around 90 minutes, but it would probably be a lot shorter if there were two people assembling the cross trainer.
Once we had everything set up, it was clear to see that this is an incredibly well designed piece of kit. It feels very solid and sturdy and is probably as close to gym standard exercise equipment as you can possibly get. The only thing that we will say is that the machine itself is quite bulky and heavy, but don't let this put you off.
The backlit LCD screen is fantastic and crystal clear. Navigating the menu settings is no trouble at all and everything is very easy to access. In terms of design, this cross trainer really does tick all of the boxes.
Using the Cross Trainer
The first thing that we would like to note in terms of how this cross trainer performs is how fluid and smooth the movement feels. This is likely due to the extra large 25Kg flywheel. It really does make a huge difference to the performance of the machine.
The varied workouts and resistance levels really allow you to push yourself and get an intense workout from this machine. We found that we were able to target different muscle groups with no problems at all and felt like we had been to the gym for a full session after use.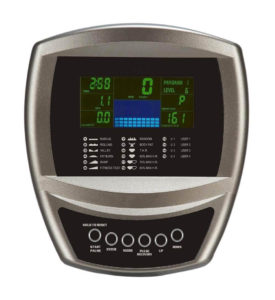 The anti slip pedals are great and make the workout far more comfortable as you feel completely safe on the machine. As well as this, the handlebars are perfectly comfortable to grip and there is no friction to worry about. The menu on the console couldn't be easier to navigate; we were able to adjust the stride and resistance as well as access the programs with no difficulties.

The Extras
The first extra feature that we absolutely loved was the bar graph tracker. It is difficult when building fitness to see your progress in just numbers. With the Frontier Olympus Max you will see a digital bar graph showing your results as you progress. This is great if you are trying to improve your fitness levels.
The chest belt sensor that comes with the cross trainer is a great addition if you are planning on improving your cardio fitness as you get far more accurate results. As a nice addition to an already fantastic piece of kit, you get a high grade water bottle and bottle holder with the cross trainer.
The Conclusion
There is no getting away from the fact that this is a very expensive piece of equipment. However, you certainly get what you pay for in terms of quality, features and extras, without a doubt. If you can afford to splurge a little extra on your home gym, then this is a machine that should definitely be carefully considered. It completely outperforms a lot of the competition and will last for years.