ProForm 900ZLE Cross Trainer Review 2016 – 2017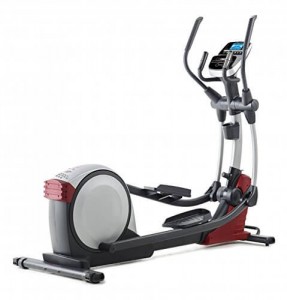 Everyone knows that exercise is an important part of living a long and healthy life. The benefits are undeniable, and nearly everyone could do with a little more of it in their lives.
To have access to high quality workout machines, you can go to your local gym and pay a membership fee, wait your turn to use the machines, and be surrounded by distractions, or you can find a home fitness system.
There are endless options out there for this type of device.
The Pro Form 900ZLE is one of these home fitness systems. This cross trainer is not difficult to put together, offers a multitude of settings, and even allows you to listen to music while you exercise. It is of the same quality or even better than you would find at most gyms (VIEW PRICE HERE!).
Let's look at some of this machine's key functions:
This device comes equipped with a large, easy to read LCD display screen makes it easy to keep track of your settings, as well as progress, speed, time, and distance. It also has a water bottle holder within hand's reach, meaning you do not have to pause your workout or step off the machine to get hydrated.
The cross trainer comes with 18 settings, meaning you can start out with whichever is most suitable for you, and work your way up gradually. Also you can select easier workouts on certain days, and advanced ones on others, depending on your energy levels. Each setting was developed by a certified personal trainer, and helps you avoid lulls or plateaus in your progress.
While a lot of similar products are noisy and disturbing to neighbours or family members, this one is very quiet, making your workout experience calm instead of stressful.
The Pro Form 990ZLE has an iPod audio port, making your workout experience fun, personalised, and enjoyable instead of a daunting chore.
The machine comes in a slick yet sexy variety of colours (red, black & silver).
This cross trainer runs off battery power, meaning you don't have to settle for the limited options of setting it up near an outlet, but also comes with a cord if you prefer that.
The large foot pedals make this device suitable for people of different sizes and builds, and come with slip resistant strips.
In addition, the product has intelligent snap assembly, meaning you won't be spending frustrated hours trying to fit the machine together. Have it up and running in 10 to 20 minutes.
The machine is versatile and suitable for a variety of people. If you're a beginner to the world of fitness, you won't be scratching your head in confusion. If you're a seasoned professional with exercise, you won't be bored. This exercise machine is efficient, stylish, and easy to assemble. Though sturdy and powerful, it does not take up a lot of space. ThePro Form 900ZLE Cross trainer is money well spent.