Reebok ZR8 – An Impressive Piece of Kit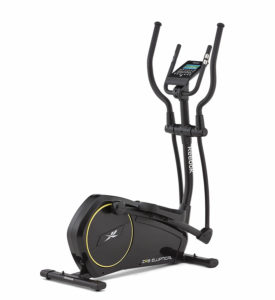 Reebok is possibly one of the best known fitness brands in the world. Not only do they manufacture sports apparel for men, women and children, but they also manufacture a range of fitness equipment, too. If you're anything like us, then you will automatically expect good things when you hear the name Reebok. It is because of this that we decided to test and review the Reebok ZR8 to see if it lives up to their high standard.
Features:
9Kg Flywheel
32 Levels of Electronic Resistance
19 Programs
12 Pre-Set Work Outs
LCD Screen
Fitness Tracker
Adjustable Anti-Slip Foot Plates
Built In Pulse Sensors
Maximum User Weight 120Kg
Transport Wheels
2 Year Warranty
Pros:
Feels very close to gym standard kit.
Wide variety of programs.
You can increase the intensity of your workout.
Cons:
Assembly takes a long time.
It got noisy after a few uses.
The programs can be hard to figure out.

The Design
First of all, let's talk about the assembly. We expected it to take quite a while to put all of the components together, but it took us a frustrating 2-3 hours to assemble the cross trainer. If you're planning on buying this model, then do make sure that you have an entire morning or afternoon to dedicate to assembling it.
That aside, once we had fully assembled the cross trainer, we were very pleased with it. The frame feels very close to gym standard kit which is exactly what you would expect from a brand like Reebok. The frame is sturdy and feels solid, you can definitely tell that it has been built to last.
The anti-slip foot plates are a great addition to an already impressive machine. One thing that we really like is the pulse sensors that are built into the handlebars. We found the handlebars themselves easy to grip and didn't feel uncomfortable using them at all.
The LCD screen is very easy to see, but we did find that we had a few issues navigating the extensive features and settings. We suspect that this would get easier with repeated use, but it is definitely a little overwhelming on your first use.

Using the Cross Trainer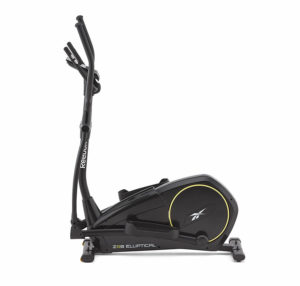 The first thing that we noticed was how effective the anti-slip foot pedals are. Having that extra grip really makes working out a more comfortable experience. As we have already noted, the handlebars are really comfortable to grip and the pulse sensor is highly effective.
We tested several of the pre-set work outs and were really impressed by the variety that we were able to experience. Having so many different work-outs and resistance settings really allows you to maximise your work outs. It really keeps things interesting too; there isn't much chance of getting bored with your regime with this model.
One thing that we did notice is that the instructions are not very clear in terms of figuring out the different programs. It took a lot of trial and error to figure out the programs that we wanted to use which was a little frustrating. However, the programs are good for varying intensity, so we can't really complain.
What we didn't like is the fact that the machine starts to get noisy after a couple of uses. The noise is bearable, but we imagine that it could cause some problems with neighbours who are in close proximity to your property. It might be the case that the noise stops with a little extra lubrication, but as a new machine, it shouldn't really be an issue that you should have to deal with.

The Extras
Thankfully, there are some extras with the ZR8 that make up for the minor flaws that we picked up upon. First of all, there is the fitness tracker. This allows you to monitor your speed, distance, time, calories and your pulse. We found the results to be accurate and enjoyed being able to track our progress. If you are planning on using the cross trainer to improve your fitness then you will love this feature.
Another thing that we really liked is the fact that the cross trainer is on wheels. We found this really useful in terms of putting the cross trainer where we wanted it and transporting it when necessary. It really helps to be able to move the machine.
The Conclusion
Considering the fact that Reebok is a reputable brand, we would definitely feel comfortable recommending the ZR8 despite the couple of minor flaws that we picked up on. If you want to avoid any complaints from neighbours then the cross trainer is probably best used in a garage or shed. The ZR8 is packed with features, comfortable to use and really allows you to vary your workout. For the price that you can expect to pay, we would definitely recommend it for your home gym.