What a Cross Trainer is, and how you can benefit from Using One
Cross trainers have seen a huge rise in popularity in recent years, both as additions to the home gym and use in traditional gyms across the country. These machines are easy to identify; they closely resemble a bike with no saddle.
They consist of two plates where you stand and two movable handles at the front of the machine. The resistance of the machine comes from the flywheel, which will vary in each machine. If you haven't used a cross trainer yet, then there is no better time to add it to your fitness regime because it comes with many benefits. Below are a just a few.

Not Hard On Joints
One of the problems that comes with a lot of exercise machinery is the fact that some of them can be quite hard on the joints. If you are young, fit and able, then this is not going to be a problem for you. However, for those with conditions such as arthritis, this can be a problem. The good thing about the cross trainer is that it isn't hard on the joints at all. If you are especially unfit or you have problems with your joints already, then a cross trainer could be the perfect solution.
You Can Adjust the Intensity
As you get fitter, you are going to want to be able to push yourself a little more. A cross trainer is great for this, because you can adjust the intensity of your work out by changing the resistance and the incline to challenge yourself more. Some of the high-end cross trainers offer up to 20 resistance levels, so you can really push yourself with your fitness.
They Are Perfect for the Home Gym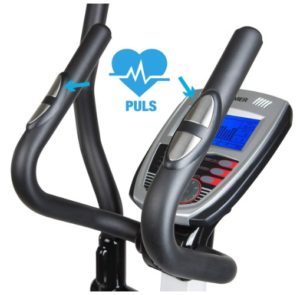 Many of us simply don't feel comfortable exercising at the gym. This is especially true for those of us who are quite unfit. If this is the case for you, then you should definitely think about putting together a home gym. A cross trainer is a great addition to any home gym because they don't take up too much space and they allow you to give yourself a full body workout without having to use multiple machines.
When it comes to buying a cross trainer, there are a few things that you will need to do. One of the most important things is to make sure that you have read online reviews for any cross trainer that you intend to buy. Below you will find a review for one of the most popular machines on the market right now; the Hammer Crosslife XTR Programmable Cross Trainer.
Hammer Crosslife XTR Programmable Cross Trainer Review
Hammer is a well-established fitness brand that has been around for more than 100 years. Their workout machines have a great reputation for being durable, robust and effective. This particular cross trainer has plenty of great features that will allow you to maximise your fitness potential.
It features an impressive 18kg magnetic flywheel which delivers the smoothest workout possible. The great thing about this machine is that it has plenty of training programmes to take advantage of so you will never get bored of your workout routine. It is packed with plenty of great features.
Features:
18kg magnetic flywheel.
12 training programmes.
4 heart rate controlled programmes.
Max weight of 130kg (20.5 stone).
2 year warranty on all parts.
As with any piece of fitness equipment, there are pros and cons with this machine.
Pros:
Sturdy Design – One of the best things about this cross trainer from Hammer is that it is very sturdy. If you are new to working out in general, then there is nothing more daunting than using a new piece of equipment that feels wobbly and unsafe. Fortunately, this cross trainer has been built and put together so well that it feels completely solid when you are using it, meaning that you can work out properly without having to worry about feeling unsafe.
Heart Rate Programmes – As noted in the features, this cross trainer has 4 heart rate monitored programmes. This means that you are able to track your progress closely, something that many machines don't offer.
Cons:
Expensive – The only real drawback to this machine is that it is fairly pricey. However, if you are serious about getting fit then it is a worthwhile investment.
Not Ideal for Beginners – If you are completely new to working out using fitness equipment, then you might find this machine a little too advanced.
Overall, this is a great machine that offers a lot in terms of features. If you are serious about getting fitter, or you are experienced with cross trainers already, then this is a good investment without a doubt.