Cross Training Or Running For Cardio?
Choosing the equipment to go in your home gym is not as straightforward as you may think. There are so many different types of gym equipment available these days and it can be hard to choose the ones that will benefit you the most. However, it is important that you choose your options carefully so that you can make sure that you get the best results out of your home gym.
Two of the most popular items for the home gym are the cross trainer and the treadmill. You will probably be thinking about purchasing either one or the other. If this is the case, then it is important that you learn about the pros and cons of each machine so that you can decide which option is best for you. Here is a breakdown of the pros and cons of each machine.
Cross Trainer

The cross trainer has been around for many years now, but is it is only in recent years that it has increased in popularity. There are plenty of YouTube tutorials for great workout routines to do on a cross trainer. However, like all things, there are both positives and negatives of the cross trainer.
Pros:
Suitable for all ages – One of the best things about the cross trainer is that it is suitable for all age groups. Other pieces of fitness equipment aren't able to offer this because they are too hard going. However, everyone from teenagers to elderly people will be able to benefit from using the cross trainer.
Work out the whole body – The problem that you will find with most pieces of fitness equipment is the fact that they only allow you to work out certain muscle groups. This is fine if you are only focussed on one muscle group, but if you are trying to lose weight and add muscle tone, then you will want to work out as many muscle groups as you can. The great thing about the cross trainer is that it allows you to work out multiple muscle groups at one time, giving you the best results possible.
Last for a long time – One other problem that you might notice with some types of work out machines is that they don't last very long with daily use. This doesn't seem to be as much of an issue with cross trainers, so if you are looking for something long lasting then it could be a wise investment.
Cons:
Difficult to set up – One of the issues that you might find with the cross trainer is the fact that setting it up is quite difficult. It often requires more than one person to do so. This is why a lot of retailers will offer professional set up for an extra price on top of the cost of the machine and delivery.
The Treadmill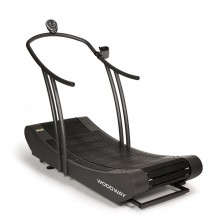 The treadmill is probably one of the oldest types of fitness equipment, especially when it comes to equipment for the home gym. Here are a couple of the pros and cons that come with the treadmill.
Pros:
Great for practicing long distance – If you are training for a race or you want to get to the point where you can run at a comfortable pace, then a treadmill will be a great training tool. This is especially true of treadmills that allow you to increase the intensity and the incline.
Suitable for all levels of fitness – Another good thing about the treadmill is the fact that it is suitable for people of all fitness levels because you can vary the speed of the machine. If you have never run before, then you can build up slowly until you are able to comfortably run at speed.
Cons:
Not many muscles worked – The main issue that comes with the treadmill is that the only muscles that really get a work out are the leg muscles. This is fine if you want to lose weight through the cardio aspect of using a treadmill, but if you want to tone your muscles or work several muscle groups at one time, then a treadmill probably isn't the best option.
As you can see, there are pros and cons of both the cross trainer and the treadmill. Ultimately, it seems that the cross trainer is able to offer the most benefits. It allows you to work multiple muscle groups as well as tone muscles and lose weight. If you want a good, all-rounder machine then a cross trainer should definitely be considered.