We R Sports 2 In 1 Elliptical Cross Trainer – Worth The Money?
We R Sports is a company that claims to have been started by fitness enthusiasts, for fitness enthusiasts. They offer affordable fitness equipment to meet every level of fitness. Out of all of their current models, we have chosen to test and review their 2 in 1 Elliptical Cross Trainer to see if it performs well. Take a look at our review below to find out how it fared.
Features:
Manual Resistance Control
8 Levels of Resistance
Forward & Reverse Motion
Console Feedback
Maximum User Weight 100Kg
Pros:
Affordable 2 in 1 elliptical cross trainer.
The frame is surprisingly sturdy.
Cons:
The instructions are not very clear.
The assembly is quite difficult.
The machine is noisy.
The tracker is not very accurate.
The Design
Let's start off by talking about the assembly of this cross trainer from We R Sports. Unfortunately, we found that it was not as easy as we thought that it would be. The instructions that were provided were not very clear at all and we had a really hard time trying to figure out all of the components. It took us at least a couple of hours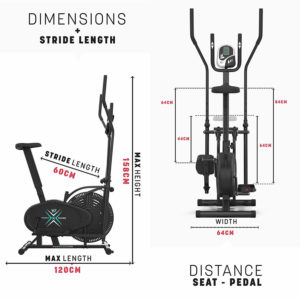 to assemble the machine before we could even take a look at the overall design. Ideally, you will need two people to assemble it.
Once we had it set up, we were able to fully assess the machine. A good thing about it is that the frame actually feels surprisingly sturdy for a budget model. It doesn't wobble too much when it is being used and it has been made from quality materials which is a plus. The tracker is a good size and it is easy to navigate the features on offer.
Using the Cross Trainer
Unfortunately, we did encounter a few issues with this particular machine. First of all, we noticed that it was noisy from the off. If you live in a block of flats then this is not going to be suitable for you. When we tested out the different resistance levels, we noticed that the foot pedals were set quite steep which led to us slipping off them frequently. It definitely didn't make for a comfortable work out.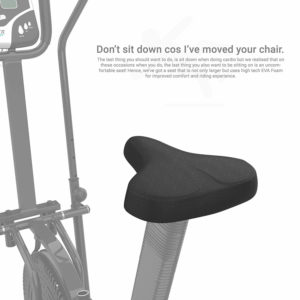 Another issue that we had is that the bolts kept coming loose in different areas, making the frame wobble and feel unsecure. We had to tighten them frequently to stop this from happening; an interrupted work out is not what you want from a cross trainer. Another thing that we noticed was that the tracker is not very accurate. In some cases it would tell us that we had burned thousands of calories which was just not possible.

The Extras
Although we did encounter quite a few issues with this cross trainer, there were things that we did like. For example, we liked that you are able to cycle both forwards and backwards. It allows you to vary your workout and keep it from getting boring. We also liked the 8 levels of resistance. Whilst it is not as many levels as a higher end cross trainer would offer, they are effective at allowing you to vary the intensity of your workout.
The Conclusion
Unfortunately, for us this cross trainer simply didn't match up to our expectations. Of course, you get what you pay for and considering this is a budget model, you can't really expect too much in terms of features and quality. However, we would expect it to have far fewer issues than it does. For us, the amount of issues that we encountered simply make this cross trainer not worth the money when there are models out there roughly within the same price range that perform much better.