The York Active 110
Many workout machines are difficult to use for people who are new to the world of fitness. The York Active 110 Cross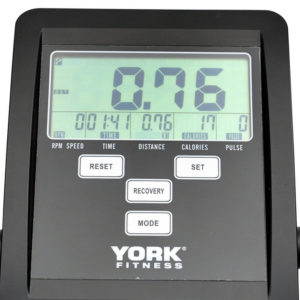 Trainer is a machine suitable for pros and beginners alike. The machine is not too complex, yet offers a variety of functions. Let's take a look at some of these functions below:
The cross trainer has eight options of magnetic resistance, select whichever one is ideal for your unique skill level, after taking a fitness test provided by the machine.
The device is equipped with safe, slip-free, adjustable pedals. Focus on your workout instead of worrying about your feet slipping off the machine.
The machine is suited for shorter people, and has a 12 inch stride length (a bit shorter than the average length of similar work out machines).
Comes with an LCD screen,
The York Active 110 Cross Trainer comes with handy spot for your water bottle, this way you can reach for hydration without having to pause your work out or walk to the kitchen
The cross trainer also has wheels for ease of transport. It's a simple task to get it into your house or shift the machine while moving in somewhere new.Additionally, the apparatus is easy to assemble and does not take up too much space, giving you versatility of options as to where in your house to place it.
Many machines being sold on the market by competitors are extremely noisy, but this one is nice and quiet. Get your exercise in without annoying your family or neighbours downstairs.
The machine is battery powered, meaning you don't have to worry about tripping over cords, and it's also easy to move from room to room.
York Fitness has been in business for over 80 years, selling a variety of workout aides. From machines,

to dumbbells, to weight benches, they specialize in both electronic and non-electronic exercise implements.
Machines such as the York Active 110 Cross Trainer focuses mainly on the large muscle groups, which makes it one of the most efficient machines for getting a complete workout for the entire body.
Many machines focus solely on the upper or lower body, but this one covers it all. It improves muscle tone in both arms and legs, yet isn't hard on your joints.
Conclusion
Not everyone enjoys going to a public gym, which is the only option that exists outside of purchasing your own home workout device. Simple machines such as the York Active 110 Cross Trainer make it simple and even fun to improve your physical well being, take care of your heart, and look better as a result.