York Fitness Perform 210 Cross Trainer Review – 2016 – 2017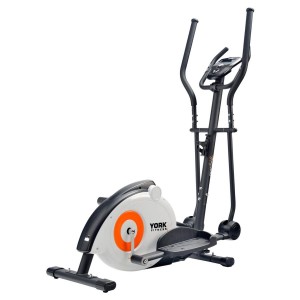 For optimum physical health, the average adult should partake in at least two and a half hours of medium intensity physical activity per week. Once you begin following this regimen, you will notice an increase in focus and energy, enabling you to get through daily goals and obligations with ease (VIEW PRICE HERE!).
This recommended exercise regimen becomes a bit easier with products like the York Fitness Perform 210 Cross Trainer. Suitable for beginners and those who are more advanced with exercise, this machine provides the opportunity to improve our personal health. Let's look at some of the key functions this device has to offer:
This exercise machine comes equipped with 32 magnetic resistance levels to choose from. Start with the easiest and work your way up, staying interested and motivated to always be improving.
Anti-slip adjustable footholds ensure that you can focus completely upon your workout session without worrying about sliding around or losing your balance. The size of these pedals is appropriate for a wide range of sizes.
The York Fitness 210 comes with a three colour LCD screen. Easy to read, simple, and nice to look at.
This device has wheels for easy transport. Whether you'd like to move it from one room to another, or move it to a new home, this feature ensures that the process will be as hassle free as possible. With other, similar products, it takes at least two people and quite a bit of strength to transport the machine. I was relieved that this is not the case with the York Fitness 210.
Ideal for toning up both arms and legs, unlike other workout devices that focus solely on one or the other. It's important to make sure you're working on strength of the entire body and not neglecting certain areas, so this is a useful quality in a fitness machine.
The device comes with hand pulse sensors to monitor your heart rate. Instead of calculating your pulse level and worrying about whether you're reaching your goals, allow the tracker to do the work for you and focus completely on your exercise session.
In addition, this cross trainer has 12 pre-set programs, offering a wide variety of workout options suitable for any skill level or for targeting specific muscle groups.
While other workout machines can wear out your joints with long term use, devices such as the York Fitness Perform 210 Cross Trainer are low impact, protecting your body from unnecessary added stress and damage. Assembly is reasonably simple, but takes some time (at least a couple of hours) and is easier if you have at least one additional person there to help. It's definitely worth the time and effort put into the one time set up, as you can use it countless times after without having to worry about that.
One of the best things about The York Fitness Perform 210 Cross Trainer is the fact that it's so stable and sturdy, yet doesn't take up a ridiculous amount of space in the house. That, combined with the stylish design and ease of moving makes it a great purchase.