Could you benefit from an Air Walker Cross Trainer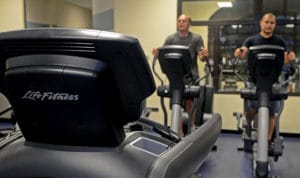 Building a home gym requires a lot of thought, not only in terms of design, but also in terms of the equipment that you intend to buy. There are so many different types of exercise machines available these days and navigating through your options can be an absolute nightmare.
One of the machines that you might want to consider is the air walker cross trainer.
Benefits of an air walker cross trainer:
Save Space – A lack of space is a problem that most will encounter when setting up a home gym. Because of this, it is a good idea to consider space saving exercise machines. Air walker cross trainers tend to be far more compact, often even foldable, allowing you to save significant amounts of space.
Easy on the Joints – If you are particularly unfit or you have a pre-existing joint problem then you are going to need to be careful what type of equipment you use. One of the best things about an air walker cross trainer is that they are far easier on the joints than equipment like the treadmill, for example.
Full Body Workout – By far, the biggest advantage that you get with an air walker cross trainer is that you are able to get a full body workout as opposed to simply targeting one muscle group or problem area. If your ultimate goal is to improve your general fitness then this is the machine for you.
In order to help you choose the right air walker cross trainer for your home gym, we have decided to choose our top 3 to test and review. Take a look at our reviews below to see what each machine can bring to your home gym.
3. HOMCOM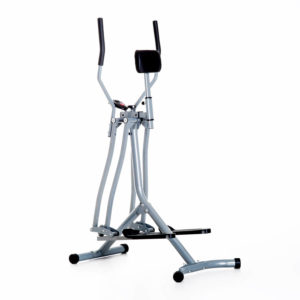 HOMCOM produce a versatile range of affordable fitness machines including treadmills, exercise bikes and this air walker cross trainer. Given their good reputation, we were optimistic about how this one would perform.
Features:
Ergonomic Moving Handlebars
180 Degrees of Free Motion
LCD Screen
Fitness Tracker
96x60x152
Assembly Required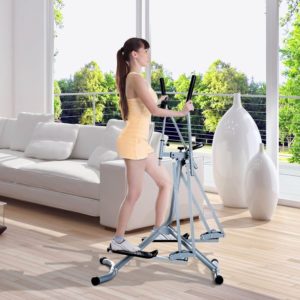 Starting off, the assembly of this air walker was relatively easy. Although this is the case, the instructions provided were not exactly clear, but the frame itself is easy to assemble with a little common sense. We were actually pleasantly surprised with the sturdiness of the frame given that this is a fairly budget air walker, so you certainly get good value for money.
Using the air walker itself was a good experience; the frame didn't wobble and felt very solid, the fitness tracker was very easy to operate and the noise level is very low indeed. The only thing that we didn't like is the lack of extra features. It could possibly benefit from more levels of resistance or some built in workout programs.
Although there isn't really much in the way of features, this is a very well built air walker and it does what it says. If you are after a budget model that will offer you the basics then this air walker from HOMCOM would be a good choice.

2. Exerpeutic Aero Air
This brand are also known for their range of affordable exercise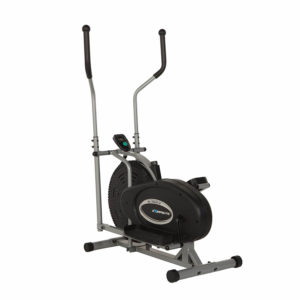 machines. Most of their models are in the budget range but have had quite a lot of good feedback, so we were eager to test this one out to see how well it performs.
Features:
Adjustable Tension
Moving Handlebars
LCD Display
Fitness Tracker
98x66x23
Assembly Required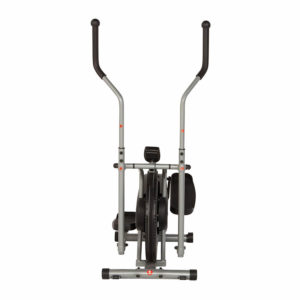 The first thing that we liked with this one is that the instructions that are provided for assembly are really easy to follow. It took us roughly an hour from unboxing the frame to fully assembling the machine which is quite standard for an air walker.
Again, with this one we were pleasantly surprised with how sturdy thee steel frame feels. It hasn't been made from cheap quality materials. We tested this model a few times and found that it was perfect for daily use. It is compact, lightweight and very easy to move.
The LCD screen is backlit, giving you a clear image of the different settings. What we really liked with this one is the fitness tracker which allows you to monitor distance, calories, elapsed time and speed. We found that the results were really accurate and allowed us to properly track our progress.
Although this one is slightly more expensive, it is worth it purely for how well built the air walker is. The only downside is that there is not really much in the way of features, just your basic functions that you would expect. For a budget model you are not going to get gym standard, but this is certainly an acceptable piece of kit for the money.

1. SportPlus Air Walker
SportPlus have built a solid reputation in the fitness industry for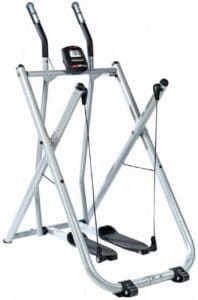 their budget and mid-range home gym exercise machines. The one that we were really eager to test was their air walker. After reviewing this machine, it takes our top spot.
Features:
Non Slip Treads
Easy Ascent
Ergonomic Handlebars
Pulse Sensors
Fitness Tracker
85x35x160
Assembly Required
Straight off, we loved how easy this air walker was to put together. The instructions couldn't have been clearer and we were ready to test the machine within a really short space of time. The frame itself feels very robust; you can tell that it has been built to last.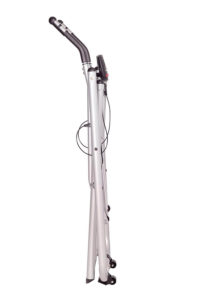 The first feature that we really liked about this one is the non-slip treads. They make working out a much more comfortable experience in general as there is very little risk of slipping from the foot plates. The fact that it is foldable is another bonus; it makes storing the air walker very easy and saves a lot of space.
When we tried a workout with this air walker, we were really surprised by how quiet it is. There is no squeaking noise which you often get with lower end machines. The built in fitness tracker is great, we were able to fully monitor out steps, stride frequency, training time, and pulse.
This air walker is just as affordable as the previous two, but the anti-slip treads and the fact that it is foldable give it the advantage over them and that is why it is our top choice. If you are looking for a budget air walker with a top quality design, this is it.
Hopefully, you can now make an informed decision on the right air walker cross trainer for your home gym.