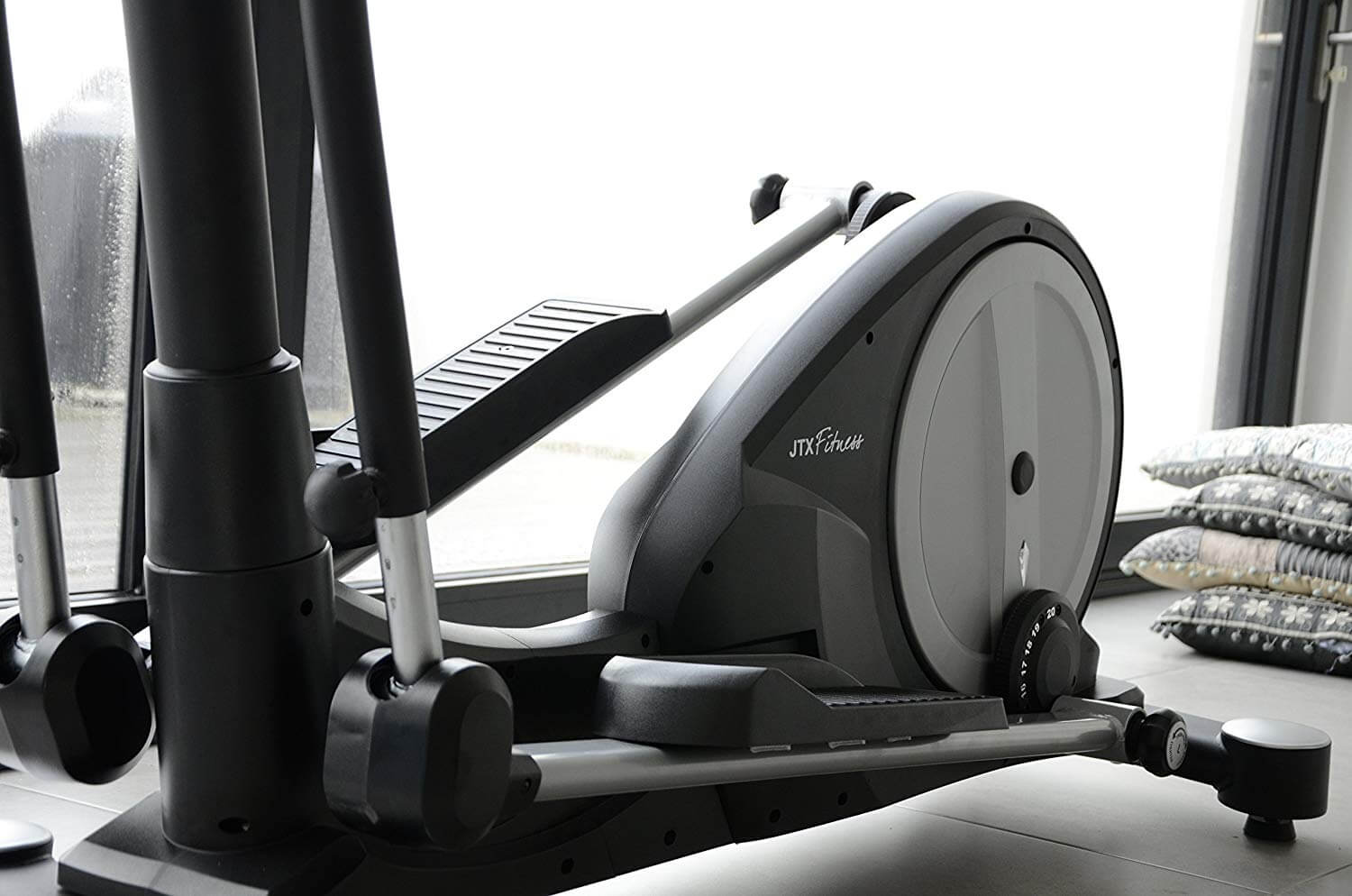 The JTX Tri-Fit: Extendable Long Stride and Incline Cross Trainer is thought of as one of the best mid-level cross trainers available today. Packed with features and designed by JTX. JTX are a relatively new company, founded in 2007, they have a 4.7 on Trustpilot.  We're going to look at how the JTX lets you understand your run, its features and specifications and finally its aesthetic and build quality.
What sets the JTX trainer apart is the range of stride available. Segmented into five lengths makes it easy for people of different heights to use comfortably and train different muscles. When combined with the independent incline control, you can tailor a work out to hit different muscles, or even just run through all of them.
Understanding your workout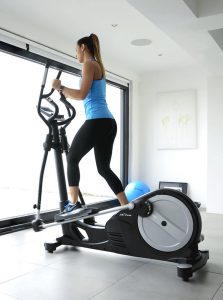 In order to keep track of what you're doing the JTX Tri-Fit comes with several ways to access and read your outputs as you train. To start with there is the screen, not the most sophisticated, it is just an LCD, but the screen itself is bright and clear. You can quickly read off how long and far you've run, your heart rate, the incline, resistance and stride. These settings are controlled both by buttons underneath the screen, but also through controls on the handlebars- so you can change with minimal disruption.
To some it might seem like a strange addition, but the JTX Tri-Fit also comes with built in speakers. These can be connected via Bluetooth to play whatever gets you pumped for a workout.
Taking it up a notch with the i-Console app allows you to run in the real world. This is done by mapping Google Maps data to the incline and resistance setting. Meaning you could run the London Marathon course or even the steepest road in the world- Ffordd Pen Llech, in Wales.
Worth considering too is the weight of the fly wheel, at 17kgs this is not a device for absolute beginners or someone coming back from injury - though if you are the former reading this it is essential to get that advice from a medical professional.
Although the fly wheel is heavy, the electro-magnetic resistance means you can precisely control the resistance of the machine and the difficulty of your workout to a fine degree. This is in contrast to an air resistant or friction resistant which - as well as being noisy electro-magnetic resistance is silent - tend to rely on you setting the difficulty.
The ability to induce incline modifications is to help increase core strength. Operating on an incline builds and tones muscle in the stomach and glutes area. If tilted the incline towards the horizontal a leg workout and a classic cardio programme is achieved.
JTX Tri-Fit Cross Trainer Features and Specification
5 stride length settings between 16 - 20" (or 40 - 50cm)
Electro-magnetic resistance, meaning the cross trainer is silent to use
16 different levels, or settings, of said resistance
12 pre-set training programmes, create your own single programme too
i-Console app for creating real world runs
Independent incline control over four levels
Multi-grip, ergonomic handlebars with setting controls
Bluetooth compatible speakers to connect your phone or tablet for playing music or podcasts
72kg in weight, with a 17kg flywheel
Compact, measuring 153cm long, 75cm wide and 173cm in height
Heart rate monitor and wireless chest strap
Potential for connectivity with smartphone health trackers
Sturdy and well accounted for but...
JTX are pretty confident in their kit. The company offers a lifetime warranty and a 2 year home repair warranty, with all parts included and an engineer coming out to your home. This is re-assuring, but compared with other cross-trainers the JTX Tri-Fit does have a sturdy built quality. Regular users will be familiar with some of the rattling handles fitted to cross-trainers, supposedly for ergonomic reasons, this is not an issue here.
...not such a looker
As far as looks go the JTX Tri-Fit is distinctly mid-range, as we noted previously the screen isn't that sophisticated and tends towards the archaic. However as a mid-range cross-trainer this offering from JTX is essentially advanced features and usability but clunky, 'aero' design. Some might prefer the more stripped back aesthetic of basic cross-trainers.
Pros:
Easy to assemble; the cross trainer is shipped with all moving parts pre-assembled
Transporting the trainer is easy with hidden access wheels, mounted on the front
Run around the world with the i-Console and Google Maps integration
Silent training due to the electro-magnetic resistance
Cons:
Quite expensive
Integration with fitness apps on smartphones requires an extra purchase
Only room for one saved programme
Heavy at 70+kg, but it does have wheels for transportation
In summmation, the JTX Tri-Fit: Extendable Long Stride and Incline Cross Trainer is a mid-range cross-trainer with some advanced features. The best aspects of the trainer are the ability to work different muscles, being able to run around the 'real world' is fun, but everything is quite clunky and ugly looking. Still a very solid buy, because let's face it, you don't look so great either when you're sweating in the gym.
JTX Tri-Fit: Extendable Long Stride and Incline Cross Trainer - 16 to 20" Adjustable Stride Length - 16 Resistance Levels
ROBUST CROSS TRAINER WITH ADJUSTABLE STRIDE LENGTH SYSTEM (16- 20") - great for multiple users. Powerful electro-magnetic resistance & incline control. By training on an incline you will engage your core and glutes giving you a more complete full body workout. Combining the incline, resistance and long stride length makes this the ideal cross trainer for weight loss and improving fitness.
INCLINE CONTROL. Increase the incline to focus the workout on your stomach and glutes area. Reduce the incline to focus the workout on you legs and increase cardio fitness.
ADVANCED COMPUTER CONNECTS VIA BLUETOOTH to a free iConsole app on your phone or tablet to create motivating visual training tools. Compatible with Apple and Android phones and tablets.
PATENTED SPACE SAVING DESIGN: 153(l) x 75(w) x 173(h)cm. Bio-mechanic multi-grip handlebars and screen tilt. 19 workout programs & custom program feature. Heart rate programs adjust resistance for a more efficient workout. 16 levels of Silent Magnetic Resistance (SMR). Flywheel: 17kg. Max user weight: 150kg. Matte black finish.
2 YEAR IN-HOME REPAIR WARRANTY includes all parts and engineer call outs to your home. Lifetime frame warranty