Octane Q47Xi – Does It Live Up To Its Reputation?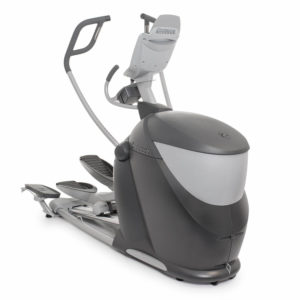 Octane Fitness claims to make the best home fitness elliptical cross trainers in the world. Not only do they provide home cross trainers, but they also provide them commercially. They have a fantastic reputation in the fitness industry, so we jumped at the chance to test and review their Q47Xi Cross Trainer. Take a look at our review below to find out if this is the cross trainer for you.
Features:
Adjustable Stride Length of 18" to 26"
Body Mapping Ergonomics
SmartStride Technology
20 Levels of Resistance
LCD Screen
Fitness Tracker
74 Programs
3 Speed Fan
iPad Docking
Safety Mode
Maximum User Weight 132Kg
Pros:
Huge number of features.
Gym standard cross trainer.
Brilliant design which allows an intense full body workout.
Cons:
Very expensive piece of kit.
Takes up quite a lot of space.

The Design
First of all, let's talk about the assembly process involved with the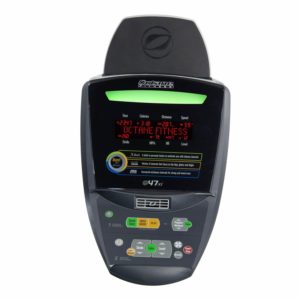 Q47Xi. As you can imagine with a machine of this quality, the assembly process is quite a lengthy one. However, once it is fully assembled you are able to see this fantastic design in its full glory. You really can tell that this is gym standard kit.
The frame of this cross trainer is incredibly stable and well built. It is solid in every aspect. The ergonomic design not only looks great, but it feels great too. You can definitely tell that a lot of thought has gone into the designing of this cross trainer and high quality materials have been used for the manufacturing.
The LCD screen is very easy to see, thanks to the backlight which perfectly highlights the menu and different settings for you to access. The only possible drawback that we can think of in regards to the design of the Q47Xi is how big it is. It is quite a bulky piece of kit so you will need to make extra space.
Using the Cross Trainer
The first thing that we really like about this cross trainer is the adjustable stride. Usually, with an adjustable stride you only get a couple of inches either way. With this one, however, you can adjust it from 18" to 26" meaning that you can really vary the intensity of the workout on your legs.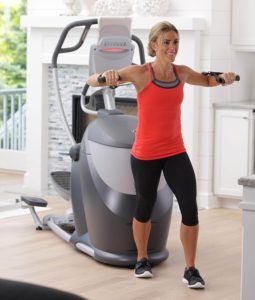 There is an incline feature which also allows you to really get those legs working which is great. With 74 programs, you are not likely to get bored of your fitness regime. These built in programs are fantastic for varying your workout in terms of intensity but also for targeting specific problem areas.
One thing that we definitely noticed with this cross trainer is that it is perfect for providing an intense cardio workout, even at the lower levels of resistance. The fitness tracker that is built into the console is fantastic. We were able to monitor our time, distance, speed, calories, heart rate, level and stride.

The Extras
This is where the Q47xi really excelled. It is packed with extra features. The first thing that we absolutely loved was the built in three speed fan which keeps you cool during your workout. We found this to be really helpful in terms of allowing us to work out for longer and at higher intensity levels.
Next, there is the iPad docking feature. This is perfect if you want to be able to listen to music whilst you work out, or if you want to watch fitness videos to give yourself a different kind of work out experience. The feature that really impressed us was the safety mode. With this feature, the console buttons are completely disabled and the pedals are restricted. This is perfect if you have kids or pets in the home as it stops any risk of fingers getting trapped or other accidents occurring.
The only real downside to this elliptical is the cost. There is no getting away from it, it is a very expensive piece of kit.

The Conclusion
Despite the fact that the Q47xi is a very expensive kit, you really do get what you pay for. There is a world of difference between the quality of a gym standard machine like this one and a budget model like some of the others that we have reviewed.
The extra features and vast array of customisable settings really do make it stand out from the competition. If you have a little extra space in your home gym and you can afford to spend the extra money then we would highly recommend taking a look at this cross trainer from Octane. There is absolutely no doubt that it is worth spending the little extra money.