Domyos E-Shape & E-Connect – A Cross Trainer from a Reputable Brand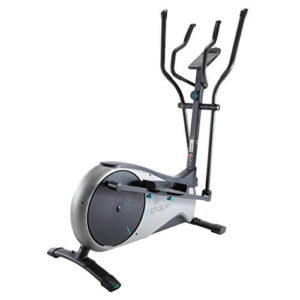 Domyos is a very reputable brand in the health and wellness industry. They currently produce a wide range of fitness equipment catering to all fitness levels and various budgets. Considering the expensive price tag attached to their E-Shape Cross Trainer, we were eager to see how well it performs. We have compiled a thorough, unbiased review to help you decide if this is the right cross trainer for you.
Features:
9Kg Flywheel
6 Functions
9 Programs
Personalised Coaching with E-Connect App
Ergonomic Handlebars
Adjustable Pedals
Pedal Blocking
Pros:
Good variety of programs to choose from.
Sturdy frame.
Low level of noise.
Easy to use.
Cons:
Could offer more in the way of features.
Expensive machine.

The Design
First of all, the assembly of the E Shape from Domyos was actually relatively easy. The instructions themselves were clear, concise and easy to follow. Within an hour we had the cross trainer fully set up and ready to use. In terms of appearance, this is a neat looking machine that isn't too bulky and doesn't take up too much space which is a huge plus point for the home gym.
Taking a look at all aspects of the frame, we were pleased to discover that it feels very sturdy and robust. As a high end elliptical cross trainer, you would expect the frame to feel as though it is built using high quality materials which this one does. The LCD screen is backlit and very easy to see which is another plus.
Using the Cross Trainer
Upon first use, the first thing that we noticed was how quiet this cross trainer is. There are no squeaking or creaking noises, making it ideal for use in the home. The foot plates themselves are very comfortable to use and you can certainly tell that they are low impact on the joints. The adjustable resistance levels allow you to get a great variety in the intensity of your work out and also makes this cross trainer perfect for all fitness levels.
In terms of the built in programs, we were really pleased with them. They are varied and help you to mix up your work outs quite significantly. This also allows you to target specific areas of your body at different times. The LCD screen is good, but a little hard to navigate. However, after spending a little time looking through the instructions and playing around with the settings we were able to figure it out.
The handlebars are really comfortable to use. There is no friction to worry about and they are the perfect shape for offering a comfortable grip regardless of the intensity of your workout. We found that the resistance levels were tough enough at the higher end and easy enough at the low intensity end allowing you to get a really warm up and cool down into your work out.

The Extras
What we really liked about this particular cross trainer is the E Connect app that comes with it. This app will allow you to get a personalised work out that is tailored to you to allow you to get the best results possible from using your cross trainer. It also allows you to track and monitor your fitness levels, so if you are using the cross trainer to improve your overall fitness then you will be able to see the results as you go along.
The Conclusion
Whilst this is a more expensive cross trainer, it is important to keep in mind that you are really paying for quality with this one. The frame itself is incredibly sturdy, there is little to no noise, a wide range of programs and a personalised work out regime. Considering all of that, we definitely feel that if you can afford to pay a little extra then this cross trainer is certainly one that should be considered.