The Best Home Cross Trainer – Reviews In 2017 – 2018
| | | | | | |
| --- | --- | --- | --- | --- | --- |
| | Sole Fitness E98 | 20" stride length - Incline - 14kg flywheel - Connect Smart Phone / Tablet - 9" LCD Screen - Cooling Fan - Heart Rate Monitor - 3 Year Warranty | High-End | | |
| | JTX Smart Stride Pro | 20" stride length - 18kg flywheel - Chest Strap - Heart Rate Monitor - 2 Year Warranty | Mid-Range | | |
| | JTX Hill Stride | 18" stride length - 12kg flywheel - 1 Year Warranty | Affordable | | |
Top 3 In-House Elliptical Trainers
Buying a cross trainer for the home is a very different process to buying an industrial cross trainer for a gymnasium. Gym cross trainers are a lot more expensive because they need to be more robust for the daily wear and tear of being used by all different kinds of people.
Gym cross trainers need to be strong and durable whereas home cross trainers do not need quite that much durability as it will be, generally looked after more than the abuse the gym equipment goes through. Thats not to say the home cross trainers will not be strong and will fall apart, on the contrary; a good quality cross trainer for the home can be very strong – some even close to the strength of gym cross trainers.
Higher end home cross trainers also have similar features as gym cross trainers, your typical gym cross trainer may have connection to the internet, TV channels etc. which if you shop around, you can find home cross trainers with similar features and sometimes a few more!
In this post, I will go through the top 3 cross trainers designed for home use currently on Amazon. While I share my honest opinion, I have also linked to the product on Amazon where you can see independent customer reviews to aid in your buying decision.
Number 1 – Sole Fitness E98 Elliptical Cross Trainer Review
A commercial grade cross trainer built for the home by Sole Fitness (learn more here!) an American fitness equipment manufacturer. Sole Fitness are known for their innovative designs and good quality, high end construction of the products. They also have a very good customer service so a complete package.
The E98 Cross Trainer has had a number of Best Buy reviews from consumers and here are some of the reasons why;
The E98 is an industrial build cross trainer for your home. The quality of construction is fantastic, it has some great features and its the little things like the incline foot pedals and the integrated fan and speakers which makes it stand out.
Working out on The E98, you really feel like you are using a heavy duty gym-standard machine.
With its 3 year, at home parts and labour warranty, you cannot get a better machine for your money.
Products from Amazon.co.uk
‹
›
Number 2 – JTX Smart Stride Pro Cross Trainer Review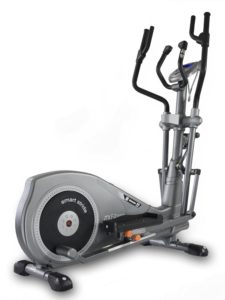 German manufacturer, JTX, are another company known for their amazing customer service and high quality products in the fitness industry. The Smart Stride Pro is a good quality cross trainer with a nice set of features and benefits;
Our second is lower in price but still has a very good, robust build and, while it has a few less features, it still has some of the more crucial features allowing you to be in full control of an enjoyable yet effective workout.
Heart rate monitor on the handles and included heart strap allowing for accurate monitoring as well as an adjustable stride length with a good, heavy flywheel means you will get a great workout which is fluid and feels natural.
Number 3 – JTX Hill Stride Cross Trainer Review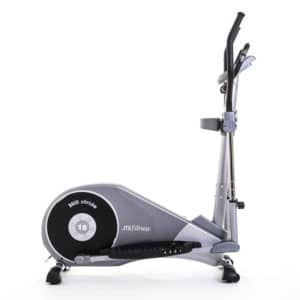 Another very good cross trainer for JTX, The Hill Stride will give you some good but basic features and is a great quality cross trainer at an affordable price point.
The Hill Stride has a good range of features which are good for a low impact, high intensity workout;
While it is number three, it is in no way a bad investment. As I said on the home page, all the cross trainers I review on this site are going to be great buys and built of a high quality, The Hill Stride is no exception to this.
With a good stride length, heart rate monitor, pre-set workout programs and a good quality, German patented design, The Hill Stride is a great entry-level cross trainer. The 2 year at home service warranty is a great finish to a very good deal.
Quick Links