Title
Best Cross Trainer Under £1000

JTX Tri-Fit
Best Cross Trainer Under £500

JTX Stride X-7
Best Cross Trainer Under £400

Viavito Sina
Best Affordable Cross Trainer Under £200

V-fit MCCT1
Most Popular Premium Trainer

ProForm
Levels of Magnetic Resistance
Warranty
Lifetime Frame, 2 Year Home Repair
Top Elliptical Machines In UK
Especially for people who don't have a lot of time in their schedule to fit in going to a gym session, having gym equipment at home—like a cardio machine—can not only be extremely convenient but also can save you some money, in the long run.
Although you've heard of treadmills and stationary bicycles, what if we told you that you could get the best of both worlds—in one machine.
A home cross trainer can be the perfect solution to hone in on a heart-pumping session that really helps your fitness levels and betters your overall health—in the comfort of your own home!
If you're looking for a machine that provides a full body workout while still getting your heart rate up, especially if you don't have hours to spend on your exercise a day, a cross trainer is a great solution.
From all the muscles you work with an elliptical cross trainer, the heart is the most important. The trainer also targets your lower body muscles, like your quads, hamstrings, and glutes, as well as your shoulders, belly, and back.
Benefits of a Home Cross Trainer
Before we get into the top three cross trainers that you can invest for your home gym, we just want to reiterate that owning a cross trainer at home will help you—economically, mentally, and physically.
Economically: Home cross trainers don't need to be as durable as those bought for the gym since it won't undergo as much daily wear and tear of hundreds of people. This means that they will definitely be on the more affordable side when compared to those normally purchased at the gym.
Mentally: Especially if you are first getting started on your workout journey, having the opportunity to work at home without being embarrassed about how you look as your body is moving at the gym. Being able to work out at home can get you the confidence you've been looking for without prying eyes. With some of its technological advances, some cross trainers have connection to the internet or TV, which can also help you relax and get in a better mental state.
Physically: The physical benefits of a cross trainer are pretty self-explanatory. However, let's break down the details:

Gets your heart moving and pumping for a great cardiovascular activity
Is one of the best machines to lose weight, burn calories, and fat
Works on upper body muscles: biceps, triceps, abdominals, latissimus dorsi, pectorals

Works on lower body muscles: glutes, hamstrings,quads, and calves
In this post, we're going to present you with our top three choices of the best cross trainers on the market—that also meet your budget! Organised below are the three top trainers categorised by price.
Best High End Cross Trainer – ProForm Cardio HIIT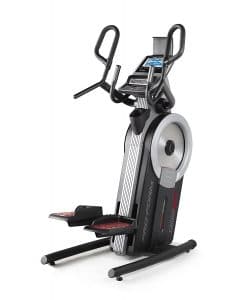 If you're really serious about getting fit with the help of a cross trainer, then you are going to want to go for a high end model. The one that we would recommend is the ProForm Cardio HIIT Cross Trainer.
With this model, you are able to combine the intensity of boxing along with climbing stairs for a real intense workout, thanks to the built in HIIT program. This model is compact and much smaller than your average cross trainer – another big advantage.
The one touch controls allow you to effortlessly switch through the 32 preset workout apps which are displayed on a 7″ LCD screen making it incredibly user friendly. Some of the programs that you can choose from include hill climbing, stair climbing, boxing and more.
By downloading the iFit app you are able to run or walk anywhere in the world with Google maps which certainly keeps things interesting. The HIIT feature is a must have for those who keep fit on a daily basis.
With a huge 15.7″ stride and 24 levels of Silent Magnetic Resistance, you are really able to push yourself without worrying about risking injury. The ProForm Cardio HIIT Elliptical is virtually silent, too.
Here are some of the most notable features:
24 levels of Silent Magnetic Resistance so you can really build the intensity of your workout.
32 preset programs if you want to target different areas of your body.
A built in HIIT program to combine stair climbing with boxing at a high intensity to really push your body.
The ability to combine the cross trainer with the iFit app to virtually workout anywhere in the world.
There is also a 2 year warranty to take advantage of if you register the cross trainer within 28 days of your purchase.
This cross trainer has been designed to be significantly more compact than your average elliptical, making it ideal for space saving. It weighs just 90Kg so it is easily moved around to your desired location. Overall, this is a fantastic model.

Best Cross Trainer Under £1000 – JTX Tri-Fit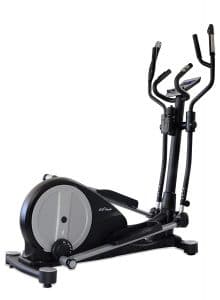 If you have set aside £1000 for your cross trainer then design and quality is going to be very important to you. One model that absolutely meets this criteria is the JTX Tri-Fit. This cross trainer is packed with programs and features that will allow you to maximise your workout regime and really get the most out of it.
With a very user friendly interface, you are able to work your way through the brilliant 19 built in workout programs to push your body to the max. There is also a custom program feature to take advantage of, along with a heart rate program which will adjust the intensity of your uphill workouts.
With 16 levels of magnetic resistance and 4 incline settings, the JTX Tri-Fit is perfect for all fitness levels, even those who are already incredibly fit but want to push themselvels further. Powered by a 16Kg flywheel, this cross trainer is brilliant.
Here are some of the most notable features:
19 workout programs to push yourself as much as possible.
4 levels of incline to really work the legs.
16 levels of magnetic resistance which allow you to push yourself to the max without having to worry about the elliptical being too noisy.
Paired with a lifetime frame warranty and a 2 year home repair warranty, the JTX Tri-Fit has it all.

Best Cross Trainer Under £500 – JTX Strider-X7
With a budget of £500, you know that you want quality—and you're willing to pay for it, within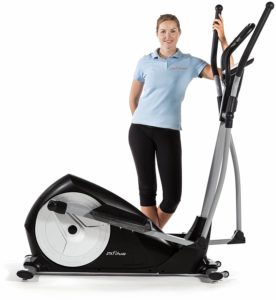 reason. With the JTX Strider-X7, you get all the amenities of a high-cost cross trainer at a quality price. This cross trainer is equipped to give you all kinds of information while training. You can get the advantages of hill training, for example, at the push of the button.
With a large, colored touch-screen console, you can flip through up to 21 programs that switch up your workout and keep it exciting. Some of the programs include heart rate control, hill, interval, and fat burning.
Especially if you are dealing with some injuries, you'll want a low-impact workout to minimize pain and increase healing. The best part of the JTX Strider-X7 is that you can get your full-body workout without all the injury risks.
This cross trainer has a 16-inch stride length and a 12.5 kg flywheel. This means that you can train as you please in a smooth and stable movement. The quietness of the cross trainer also allows you to work at home without disturbing others—even a sleeping baby!
What sets the JTX Strider-X7 apart from the rest is that it includes a plus polar compatible wireless chest strap that dictates your heart rate.
The JTX Strider-X7 has a few great features to note:
16 levels of magnetic resistance and quick start buttons to engage the user while working out.

An integrated pulse receiver (along with the heart strap monitor) to keep everything under control.
The ability to save up to four personalised workout programs on its console through a full-color display that also shows: Speed, Time, Distance, Calories, Watts, and Progress Track.
Non-slip adjustable pedals that create a safe environment in the home to work out, along with adjustable floor pads when placed on an uneven surface. This also helps prevent and reduce impact and injuries.
You can even measure your own body fat while using the machine.
The JTX Strider-X7 is backed with a 5-year warranty and a 2-year in-home repair warranty, including all parts and labor, so you know that they back their product up.
Even though it is designed compact and light, weighing only 54 kg, The X7 is a space-saver when not being used. When you're finished, you can wheel it away into the closet for storage, creating more space in your living area.

Best Cross Trainer Under £400 – Viavito Sina
The Viavito Sina is another great cross trainer on the market for home gym equipment. If you're working with a bit of a smaller budget, you still don't have to compromise quality with your economic prowess.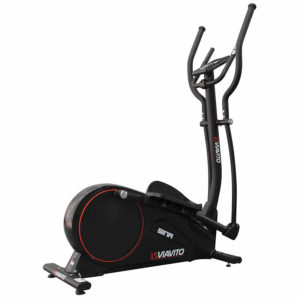 The Viavito Sina is equipped with some of the best features of a quality cross trainer, even if it is lower in price. Since you're investing in this machine to work out at home, you'll want a quiet production noise level—which the Viavito Sina has.
With a 9 kg flywheel and a stride length of 38 cm, you are guaranteed a fluid smooth ride—which means that you can walk up much earlier than the rest of your family and still hop on for a quick workout.
What sets the Viavito Sina apart from the rest of the cross trainers on the market is that it has 32 Levels of Computer Controlled Magnetic Resistance. However, the diversity of your workout doesn't stop there.
You can also switch between 20 different programs for training that can keep you interested, entertained, and excited to work out. Changing up the monotony of your workout can also have pretty high physical benefits, so having 20 different programs to choose
from will help you reach your goals much faster.
What's also great about the Viavito Sina is that is can be controlled from 4 unique user profiles, meaning all members of your family can hop on and choose their individualized settings.
The Viavito Sina has some features that stand out among the rest:
The footplates are large and comfortable—great for fitting any-sized feet.
The dual-color backlit LCD display is integrated with a KM/MI switch, 20 different programs, 32 levels of resistance, and 4 user profiles, as we mentioned before.
You can also benefit from the heart rate receiver after purchasing the additional heart rate strap or use the hand pulse sensors already on the machine.
The Viavito Sina comes with a warranty of 2 years for parts and labor.

Best Cross Trainer Under £200 – V-fit MCCT1
The V-fit MCCT1 is our most budgeted choice in this guide. However, that being said, the V-fit MCCT1 doesn't budget in quality and features.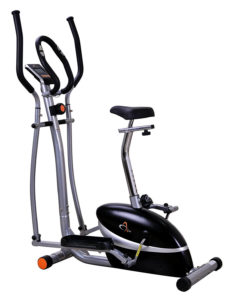 This cross trainer comes with a magnetic resistance system with friction-free 4.5 kg cast iron flywheel. That means you are going to be getting a quiet ride every time you hop on.
No matter if you're going for an aerobic or anaerobic workout, this perfectly formulated blend between exercise cycle and cross trainer is an extremely versatile and capable machine that operates well for both functions.
With an eight-step dial adjust resistance, you can choose the level you need to work out to your maximum effort. Everyone in the family can also hop on the V-fit MCCT1 since it has an adjustable saddle and an expandable PU height.
You can also switch up your workout, any way you please. Whether you want a combined cycle-elliptical function with a forward motion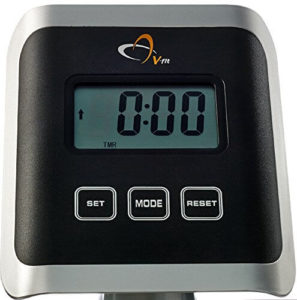 or you want to tap into your other muscles with the reverse motion, you can also benefit from the synchronized handlebars that gets your upper body moving.
The V-fit MCCT1 comes with a single screen eight-function exercise monitor.
Here are some standout features from the V-fit MCCT1:
Less impact on hips, knees, and ankles while in motion—so perfect for those who are more susceptible to injury.
Designed with a robust tubular steel frame that is covered in a chip-resistant finish that will last you years.
Perfect for the whole family, the MCCT1 can be adjusted to suit your shape and size. With its large padded height, adjustable saddle, and oversized non-slip footplates, anybody in your family can use it.
You can track your progress through the LCD exercise monitor. It shows you your calorie burn, distance, hand pulse readings, odometer, scan, speed, and time.

Buying Tips
To help you choose the right cross trainer for you, these tips should help you choose the right one for your budget, you, and your family.
First and foremost, you need to sort out which type of cross trainer you would like to invest in. There are a few different kinds that specialize in either certain movements or certain resistance capabilities.
Depending on what you're looking for in your cross trainer workout, you should choose the type that helps you get closest to your fitness goals.
Types of Cross Trainers:
The Incline: Designed to target and blast various different muscle groups, this type of cross trainer is a great choice when looking to really give yourself a challenge. Just like when you can adjust the incline of your treadmill, the incline cross trainer allows you to change the level of incline so that you can simulate walking or running up a hill. You can also do interval inclines since the level can change so quickly. This type of cross trainer really gets your core muscles and upper thighs working.
The Ergometer: If you are a high-level athlete and want to really have control of your resistance training, the ergometer can provide you with the specialized details that will really make a difference in your workout. The entire workout resistance is measured in watts, which is pretty easy to control. For the general population, however, the complicated information might be a little too much—as well as the price tag.
The Electromagnetic: If you want to get a little bit more technologically advanced, you can use the electromagnetic cross trainer, which taps into a varying magnetic field to control the resistance level. Normally, you'll find this type of resistance in most high-quality cross trainers on the market.
The Fan Elliptical: If you're not too worried about the sound of your machine and you're working with a very limited budget, the fan elliptical cross trainer works with a fan in a cage to power it up. Unfortunately, this machine is limited in the restricted resistance range—which really shouldn't be a problem if you're looking to work out on a very common and consistent basis. This is a perfect cross trainer style that not only will meet your budget but they will provide you with a solution to workout. Unfortunately, these machines are designed to last very long.
The Belt Resistance: This type of cross trainer uses a belt and flywheel to manage the resistance levels. This is also another style of a cross trainer that can really get you some bang for your buck. Even though the belt resistance type of cross trainer is designed with low-build quality, they are generally in your budget range.
The Variable: This is a great choice if you're looking to have a broad range of stride length settings, all in one machine. If you like variability in your workout and you want to go from running to walking at a quick pace, you can choose the variable cross trainer. It allows the user to flip through programs that switch between walking with a shorter stride and developing more into an intensive, running motion with a longer stride. This is a great option if you have different family members looking to use the machine, who might be at different heights and have different stride sizes.
The Rear or Front Driven: For the final type of cross trainer, we have the rear or front driven. The rear ones are positioned with the flywheel at the back of the machine and move with a slightly more elliptical motion. The front ones are positioned with the flywheel at the front of the machine and move with a slightly flatter movement. The difference between the two can be chosen not only based on personal preference but also perhaps because of previous injuries or movement restrictions.
Lastly, before you make your final decision in choosing the perfect cross trainer for your home, we want to present you with some final tips that can help not only your decision of which one works best for you but also what to do with it once you buy it.
Especially if this is one of your first pieces of training equipment, knowing exactly what to do with it can be kind of confusing. We hope that these tips can help clear up some of the murky waters.
First, you need to decide WHERE to place your cross trainer. Once you buy it and it's on its way, you should make room or make the decision of the perfect place to put it.
We definitely don't recommend that you place your electronic cross trainer in a colder room, like your garage. Especially if you live in a colder area and that room tends to get quite freezing, the temperature of the machine will suffer.
The condensation inside the computer and the circuit boards can ruin the functioning parts. If you don't have any other choice with keeping it in the basement, you'll want to try and place it underneath a heavy sheet or rug to keep it warm when it's not in use.
On the other hand, you don't want to put it in a room where it gets extremely warm, as well. (Much like the basement or attic area in the summer months). The heat won't affect the cross trainer as much as the cold, it is more of a comfort factor for you.
Especially if the main reason behind getting an in-home fitness machine was to keep from going outside in the heat, the last thing you want to do is sweat in a sauna while working out on your cross trainer.
For our recommendation, we advise you to put the cross trainer in a comfortable room that has access to a television or a stereo system that can help entertain you while working out. You can even place it in the family room so you're not isolated while you're training or you can keep an eye on the kids.
Secondly, you need to make sure you have enough space in that room. Although you finally made the decision about the perfect place to put it, you need to check out the measurements of the cross trainer you've purchased and make sure you have enough space in that room to place it.
We recommend you add 10 – 15cm to the width and length of the stated measurements of the cross trainer so you have that breathing room to get in and out of it.
Even though it's normally not an issue, you should want to make sure that you have checked the maximum user weight. Especially if the main reason for purchasing the cross trainer is that you felt uncomfortable with your weight to go to a public gym, you just want to double check that it can hold your weight for a stable and enjoyable workout. Normally, you'll have a maximum weight of 130 kg. However, each trainer is different.
Lastly, you'll want to choose the right features for your workout.
We want to advise you to check out the stride length, the flywheel weights, and the resistance levels. The stride length is important to consider because if you have a shorter stride length, you might not feel comfortable on certain cross trainers. You also want to factor in that—especially if the "stride length" is already beginning at your "maximum"—when you increase speed and intensity, you'll be extending the length of the stride.
This also counts for the opposite, as well. If you purchase a cross trainer with a stride length that is too short, you can feel restricted and your workout will be inefficient.
The flywheel weight will dictate the smoothness and resistance of the cross trainer. If you get one that is inadequate, you—and your entire family, even your neighbors—will suffer from the sound of you working out and might limit the time of day you can hop on your cross trainer.
You should also understand the resistance levels on your cross trainer. It's pretty simple to know what is better for you—the larger number of resistance levels, the better. However, you'll want to really pay attention to how much of a difference there is between the levels—because even though it might have 20 resistance levels, there might not be much difference from one to the other.
We hope that this guide has helped you choose the perfect cross trainer for you, your workout, and your home.