Maxi Glider 360; a Fantastic Innovative Cross Trainer
Choosing a cross trainer can be difficult when you consider all of the different models out there. One that really caught our attention with its completely unique design is the Maxi Glider 360. This cross trainer comes from a company called High Street TV.
It is very likely that you will have heard of this name as they are also the manufacturers of a number of other popular consumer goods including the NutriBullet and the Pressure King Pro. Given that these are quality products, we were optimistic about what this cross trainer has to offer. We decided to put it to the test so that we could give you a good idea of what you can expect in the form of an unbiased review.
Features:
4 Movement Types
Targets 10 Muscle Groups
4 Resistance Levels
Digital Progress Tracker
Maximum User Weight 110Kg
Pros:
Completely unique design allowing a different workout.
4 resistance levels allow you to build up your strength.
Very solid frame.
Folds away for easy storage.
Cons:
A little on the expensive side.
Quite loud and starts to squeak.

The Design
First of all, we'd like to comment on the assembly. We had absolutely no problems in assembling the cross trainer, despite its unique design. Once everything was put together, we were able to test the cross trainer properly. Straight away we noticed how sturdy the frame feels. You can tell that quality materials have been used as it feels very durable indeed.
It has a really modern design that has been created with space saving in mind; the fact that you can fold it away for easy storage is a great bonus, especially if you are low on space. The handlebars themselves feel comfortable and easy to hold onto and the footplates are solid. Overall, we were pleasantly surprised with the design.
Using The Cross Trainer
Using this particular cross trainer definitely takes some getting used to. However, this is not a design flaw; this is simply because of the unique design of the Maxi Glider 360. To get used to the way that it works, we decided to try out all 4 functions, Glide, Rotate, Ski and Split.
What we noticed is that each different movement type really works different muscle groups well. Most cross trainers allow you to work various muscle groups at one time, but this one is great if you want to target certain problem areas. It definitely takes a little practice to get used to the movements though.
The LCD screen is very easy to use. We didn't have any trouble viewing the different settings and choosing the resistance levels. The digital tracker allows you to monitor your progress as you build your fitness. The only flaw that we did notice is that the Maxi Glider 360 can be quite noisy. After some time, we noticed that it developed a rather loud squeaking sound, which could cause problems if you have neighbours above or below you.

Extras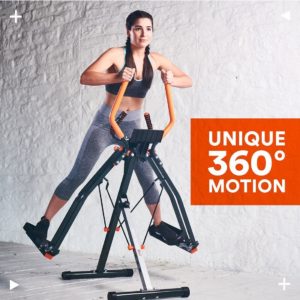 We were really surprised by the amount of extras that you get with the Maxi Glider 360. First of all, you get a nutrition and health plan. This will really help you if you are planning on using the cross trainer to lose weight. As well as this, you get a wall chart which demonstrates the different movements and how to master them.
Finally, there is the digital progress tracker which allows you to closely monitor your progress and a heart rate monitor, as well as a tablet stand to watch fitness tutorials or listen to music whilst you work out.
The Conclusion
We have to say that we were really impressed with the Maxi Glider 360. Yes, it is a little on the expensive side. However, when you consider the fact that it has a completely innovative design and factor in all of the extras that you get with the cross trainer, it's actually a really good deal.
For a cross trainer that will really allow you to vary your work out and maximise your results, the Maxi Glider 360 really delivers. As a final point, the fact that it folds away for easy storage makes this cross trainer a real winner in our eyes.